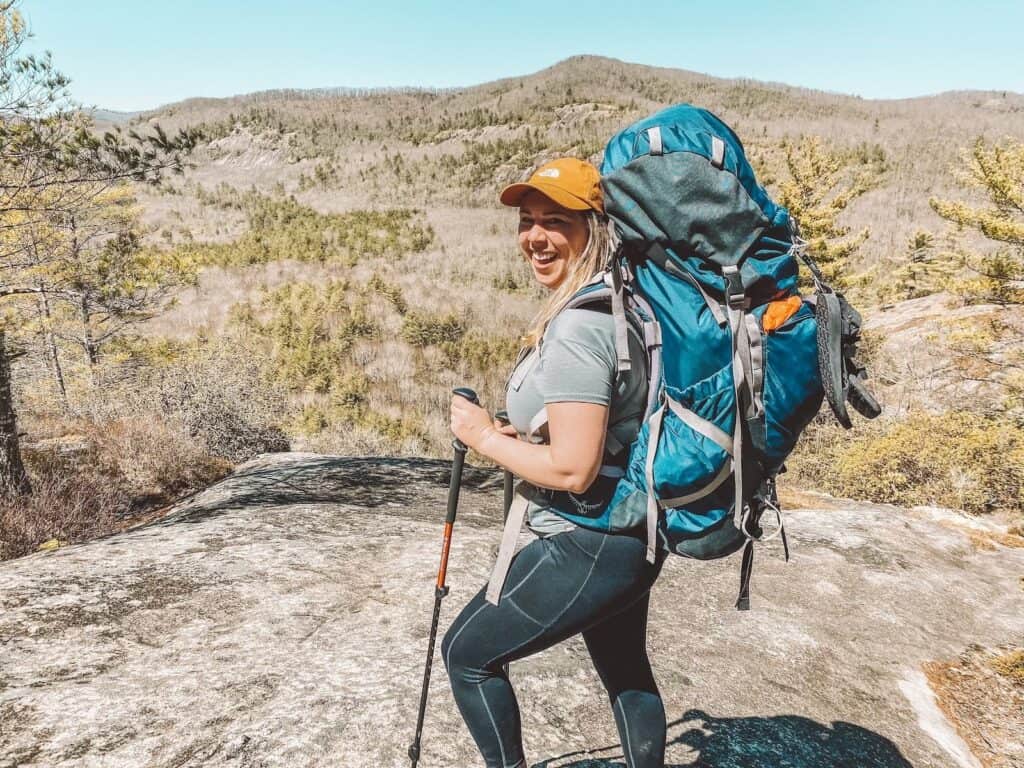 Is backpacking on your bucket list? Do you dream of sleeping under the stars and waking up to mountain views, exploring the backcountry that day hikers never get to see? Backpacking is an incredible experience, and one thats changed my life in amazing ways! But backpacking for beginners can be super intimidating. This guide covers the most-essential backpacking tips for beginners, so you can hit the trail safely and with confidence your first time backpacking.
Update: This post was originally sponsored by World's Best Adventures, who sadly, are no longer in business. I've linked to several other guided backpacking companies – below – although I haven't personally tested them out. If anyone has recommendations for guided backpacking tours – drop a comment below! This post contains some affiliate links, which means if you buy something, my blog will receive a small commission at no extra cost to you.
There's tons of new gear to sort through, logistics to manage, and meals to plan. Not only did I survive my first backpacking trip, I LOVED it – and I learned some invaluable backpacking tips along the way.
If you're planning a backpacking trip for beginners, these are 15 biggest lessons that can help you as a first-time backpacker.
1. DO Pick a Beginner Friendly Route
The biggest make-or-break decision when planning a first backpacking trip is picking the right route. Sure, planning a 30 day trek through the Sierra Nevadas might be on your bucket list one day (samesies), but stick to something a little more manageable on your first time out.
Pick a trail that is rated easy to moderate. Avoid trails that have significant elevation gain, rock scrambling, or ice and snow.
You'll have plenty to adjust to on your first backpacking trip: including carrying a 20+ lb pound pack, filtering your own water, and sleeping outside. So now probably isn't the time to push the limits of your hiking abilities as well.
Decide How Many Days You Will Hike
Beginner backpackers should aim for 1-2 nights in the backcountry on their first backpacking trip. My first trip with was 3 Days / 2 Nights. That gave me enough time to adjust to life on the trail, without totally overwhelming me.
Limiting the number of nights on the trail will also help keep down the weight in your pack, making it physically a little easier on your first time out.
Decide How Far You Will Go
Most backpackers average a walking pace of 2 miles per hour. A good backpacking tip for beginners is to limit your distance to 5 to 10 miles per day. Any further and you run the risk of exhausting yourself on Day 1.
As someone who hikes 6+ miles fairly regularly, I still found a 5 mile backpacking day pretty tiring on my first trip. Over time I've built my "trail legs" and worked up to 10 – 15+ miles a day.
Where Will You Camp?
Going backpacking means you can just throw down your tent wherever you'd like, right? Not so fast. Some state and federal lands only permit backcountry camping in designated locations. Make sure to research all regulations ahead of time and plan your intended camping spots in advance.
Guidebooks and backpacking apps usually highlight established or frequently used camping spots along commonly used trails. If you're hiking in a National Park, State Park, or National Forest, you can usually find a good a guidebook or topo map with all the data you'll need to plan out your camping spots.
Some apps I've used are:
Farout is by far the most widely used app on major backpacking routes like the PCT, AT and even smaller trails like the Trans Catalina Trail, Colorado Trail ect. When I section-hiked 5 days on the PCT in 2023, literally ever person I spoke with had it downloaded to their phone. Each map purchase uses the GPS on your phone and includes route information, elevation profiles, water sources and campsites, and users are encouraged to leave comments so you ideally get updated information from people walking the trail in real time.
AllTrails+ is more commonly used for day-hiking, but usually includes good info about campsites and trail conditions on popular backpacking routes. Upgrade to the paid version to download maps for offline use.
Gaia GPS turns your phone into your one-stop navigation tool, using gps and topo maps to track and plan your routes. While not as beginner-friendly as AllTrails, the advanced features and tons of data that come with the paid subscriptions make this a good investment once you've mastered your first trip.
2. DO Check Weather Forecasts
Before starting out on your first backpacking trip, make sure to check detailed weather forecasts for the duration of the trip. Take note of possible of storms, cold fronts, heat waves, and wind conditions.
Before my first trip, I kept an eye on a rainstorm headed our way. Thankfully, we were all prepared for a soggy first day out on the trail when the storm did hit, and got to hike through beautiful clear skies the next day.
What I didn't check for was the wind. While the temperature never dropped below the 30's, windy conditions plunged the perceived temperature into the 20's, making for a very chilly night! If I had checked, I probably would have packed some warmer gear.
Remember that conditions can change quickly, especially in the mountains and desert. Even if the forecast calls for clear skies, bring a rain jacket or emergency poncho just in case.
3. DO Physically Prepare for Your First Time Backpacking
My biggest worry before my first backpacking trip was how my body would physically handle lugging a 30+ pound backpack over 15+ miles and several thousand feet of gain.
Thankfully, I spent a few weeks leading up to my trip doing some basic strength training, particularly my legs, shoulders and back, and cardio endurance training.
At a minimum, make sure that you're comfortable hiking the distance and difficulty of your planned trip with lots of similar day hikes. If you already own your own pack, wear it during your day hikes, and make sure it is loaded with the weight you plan on backpacking with, usually around 30 lbs.
Read more about backpacking training tips for beginners here.
4. DO Go With a Beginner-Friendly Guided Backpacking Tour
Backpacking is an investment. Both physically and financially. In fact, a huge reason why I had never backpacked before was because I didn't have the necessary backpacking gear like the "big 3" (more on those below) and I didn't want to spend hundreds of dollars (or more!) on gear I wasn't 100% certain I'd love.
Choosing an all-inclusive backpacking guiding company saved me all the hassle (and tons of $) because the price includes basically everything. A guiding company can provide quality backpacks, tents, sleeping pads, cooking supplies and most importantly, a reliable and experienced guide.
When choosing a backpacking company, make sure you pick guides who have plenty of experience backpacking in the area you are headed.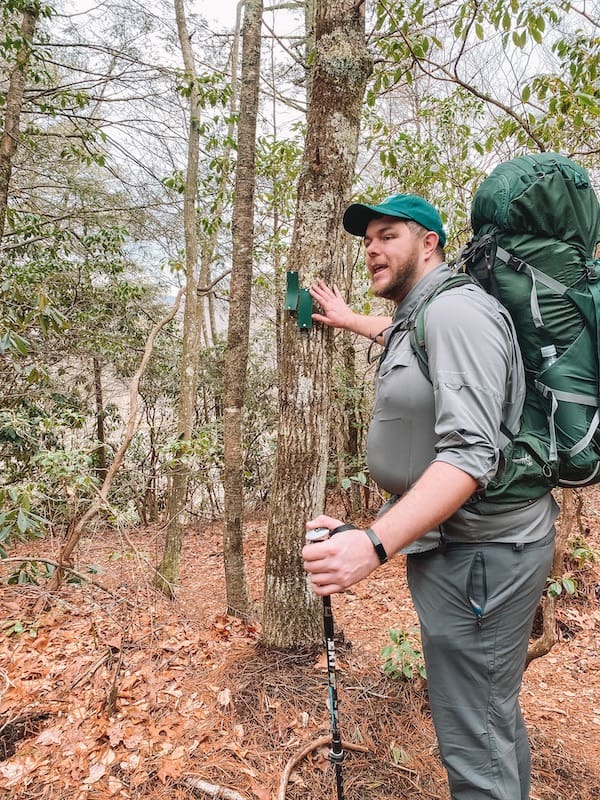 Not only does this help ensure your safety, it also means you'll have a huge amount of backpacker knowledge available 24/7 on your trip. I spent the weekend picking our guides' brains on the best camp stove, best tent, best camping pillow ect.
No one to hike with? Group trips solve that problem too. I left my husband at home for this trip, but even my introverted-self had no problem making friends with our group members and other hikers on the trail. You'll already have so much in common – a love of wilderness and a desire to backpack.
Unfortunately, the backpacking tour group I went with is no longer in business. Here are 3 guided backpacking groups I would recommend at this time (although I haven't had personally gone with any of them – yet!)
Explorer Chick – Adventure travel tours for women, included guided hiking, backpacking, National Parks and international Travel.
Wildland Trekking – All-inclusive guided hiking and backpacking trips in some of the most iconic places in the US and around the world.
REI – The OG. REI has dozens of guided backpacking tours, including women's only and specialty tours, led by REI guides or trusted local guides.
5. DO Plan Your Meals (and Don't Forget Snacks!)
Planning meals in the backcountry can be difficult for the first time backpacker. Since you'll be carrying all your food and cooking supplies in your pack, you want to carefully plan all your meals (and snacks) in advance
Backpacking Food Tips for Beginners
Bring foods that maximize your weight to calorie ratio. Avoid heavy cans, glass jars and bulky items.
That means picking foods that are nonperishable and lightweight but dense in calories. Why? The average backpacker burns at least 3,000 calories per day while hiking.
A good backpacking tip for beginners is to pack at least 2,000-3,000 calories per day (now is not the time to stick to your diet!).
Here's an example of what I ate during a full day on the trail:
Breakfast: Dehydrated meal (Mountain House Biscuits and Gravy) + Coffee
Lunch: Flavored Tuna packets, tortillas with peanut butter and honey packets
Snacks: Beef jerky sticks, and granola bars
Dinner: Dehydrated meal (Peak Refuel Chicken Pesto Pasta) + candy bar
Backpacking Tip for Beginners: If you aren't ravenously hungry, you can easily split a dehydrated meal between 2 people plus some small snacks. I wasn't able to finish an entire packet myself!
One of the huge bonuses of going with a group is that you get to share the weight of your food and cooking essentials, and indulge in some extra treats! For example, our guide Alex carried some salami, hard cheese, nuts, dried fruit, and crackers for us to enjoy a campfire-charcuterie before dinner – not too bad for the backcountry!
Our tour also provided us with a huge selection of freeze-dried backpacker's meals to choose from when packing our bags. My personal favorites were the Mountain House Biscuits and Gravy, Peak Refuel Chicken Pesto Pasta, and of course, the Backpacker's Pantry Dark Chocolate Cheesecake Mix. (I've seriously considered buying that Cheesecake Mix for home – it was that good! 😅)
As you gain more experience, you might want to test out your own recipes to cook while backpacking, but as a beginner, these freeze-dried meals are perfect, and relatively tasty intro to backcountry cooking.
Cooking Supplies
A simple backpacking stove, like the MSR PocketRocket or the Jetboil Flash Cooking System can quickly boil water for your coffee or dehydrated meals, and weigh less than 1 pound. Pair your stove with a lightweight cooking pot (included in the Jetboil), camp mug, and a long spork for a complete backcountry kitchen.
Remember, NEVER cook inside your tent or enclosed spaces. This can cause deadly carbon monoxide poisoning or a fire!
6. DON'T Pack Too Much (or too Little)
Overpacking is the #1 mistake that beginner backpackers make. When you have to carry everything on your back, its easy to underestimate how much your total pack will weigh! Aim for a pack weight of around 20-35 lbs for a 3 Day /2 Night trip.
For your first trip, stick to the following essentials. Once you have some experience under your belt, you'll be able to gauge how much, or how little, you feel comfortable carrying.
Backpacking Packing List for Beginners:
55L+ Backpack
Hiking Shoes / Boots
Clothes: Socks, Moisture Wicking Shirts, Hiking Pants, warm base layers (double as sleeping clothes), gloves and hat, underwear
Rain jacket (rain pants optional)
Down or Fleece Jacket (both if cold weather is possible)
Sleeping Bag + Sleeping Mat
Backpacking Tent
Water Bottles + Water Filtration System
Sunscreen, toothbrush/toothpaste, cleansing wipes, deodorant, hand sanitizer + any medications
Toilet Kit: Toilet Paper or wipes, Kula Cloth, Trowel, trash bag for "used" items.
knife / multitool and emergency gear repair (duct tape, or Gear Aid tape)
Headlamp
Trekking Poles
Waterproof backpack cover + waterproof dry bags (or ziplocks) for clothes + organization
Camp Stove, lighter, food, and wildlife-safe food storage system
First Aid Kit
Blister Care (use Leukotape or Moleskin on hot spots before the blister forms. Use bandaids and Neosporin on an open wound)
GPS + Map
Phone / Camera + Portable Charger
Camping Pillow (optional)
Camp shoes (optional)
But Don't Under Pack
I was so worried about overpacking that I UNDER packed for my first backpacking trip! Next time, I will pack some more substantial wool base layers as well as a fleece and down jacket when backpacking in the early spring.
I also recommend bringing headphones, and a few audio books or e-books downloaded to your phone. Some hikers also brought playing cards for some post-dinner entertainment. Light sleeper? Don't forget some ear plugs to shut out the noise of your fellow hikers.
7. DO Invest in Your "Big Three"
Your "big three" are the 3 heaviest and most important pieces of gear you'll need on a backpacking trip. These items are your backpack, your tent, and your sleep system.
Backpacking gear can get expensive (yet another reason I went with an all-inclusive group for my first trip!) but resist the urge to completely cut corners here. You don't have to spend a fortune, but picking quality gear that is right for your body and your trail conditions is one of the best backpacking tips for any beginner.
Backpacking Packs for Beginners
A good backpacking trip starts with a good backpack. A well-fitted pack means good weight distribution, functionality, and comfort. You should be able to wear your backpack for hours, or days, without too much discomfort or any blisters.
How big a backpack do I need?
Backpacks are sized by their capacity in liters. A 55 to 65 Liter bag will have plenty of room for 2 – 5 nights worth of gear.
Backpacking Tips for Beginners I Learned the Hard Way: Bigger isn't necessarily better. Resist the urge to get a pack that is too large for your needs. Not only will you lug around all that extra pack weight, but if you give yourself too much room, you'll probably end up packing things you don't really need. On my first trip I carried a whopping 70L pack! Now I stick with a streamlined 58L.
Getting the Perfect Backpacking fit for Beginners
Most backpacking packs allow you to adjust the back panels, hip belt, and shoulder straps to achieve a perfect fit.
Learn the art of how to properly adjust your pack, here.
The best way to ensure a perfect fit is to buy (or test) your pack out in person. Outdoor specialty stores like REI can help you select the best pack for your body type.
The Best Backpacking Packs for Beginning Backpackers
Just like buying a new car, there are virtually endless options when it comes to buying your first backpacking pack. Do you want minimalist and lightweight? Or do you want a ton of pockets for gear organization? Your pack will depend on how YOU like to hike!
But if you're looking to buy your first backpacking pack, I recommend looking at these 3 options:
REI Trailmade 60L: REI's Trailmade 60L is a great beginner backpack at a crazy affordable price. I've personally tested out this pack and was really pleased by the thoughtful design, including plenty of pockets, tons of adjustable clips and straps for extra gear, and pockets that let you access your water bottle without taking off your pack. The Trailmade line is designed specifically for beginner backpackers, so the inside of the pack has instructions on how to adjust the fit and the best techniques for packing your gear. If I was starting out as a beginner backpacker all over again, this is the pack I would get.
Osprey Eja 58: The Eja (and its male counterpart, the Exos) has been my go-to bag for over a year. This bag is perfect if you plan on traveling light (it holds 58L and weighs 2 lbs 11 oz) but need the extra support of a full internal-frame pack.
Gregory Deva 60L: A favorite among backpackers, the Gregory Deva is a supportive 60L pack that can adjust tons of ways to get the perfect fit to your body. The oversized hip belt pockets are big enough to hold your phone and snacks, and there are plenty of extra pockets and loops for gear organization.
Backpacking Tents for Beginners
While car camping tents are roomy and full of bells and whistles, backpacking tents are designed to be lightweight and minimalist.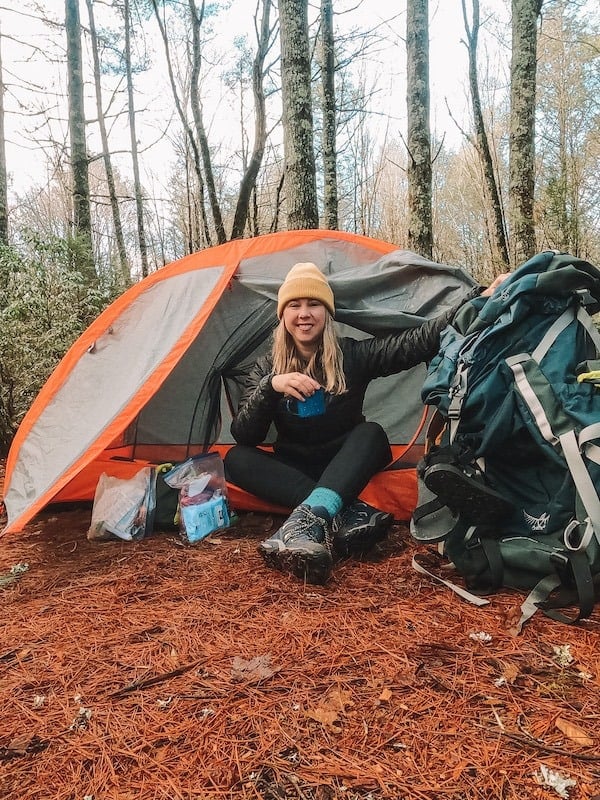 To save weight, only pick a tent that sleeps as many people as you need (Hiking solo? Stick to a 1p tent. Hiking as a couple, get a 2p tent.).
When backpacking as a couple or a group, you can easily split up the tent pieces between hikers to minimize your weight.
The Best Backpacking Tents for Beginners
One of the biggest reasons people don't get started backpacking is the cost. Backpacking tents are notoriously expensive. That's because backpacking is all about the compromise between comfort and weight. Experienced backpackers are more willing to pay a premium for ultra-lightweight (but ultra-pricey) materials.
But before you go shelling out hundreds of dollars, start with a basic backpacking tent, like the ones listed below. These tents are budget-friendly but lightweight enough for your next (or first) backpacking trip.
REI Half Dome SL 2: The REI Half Dome is a favorite among budget backpackers and thru-hikers alike. The Half Dome's decently low price ($329 as of May 2023) makes it a great entry-level lightweight backpacking tent at a packaged weight of 4lbs 11oz. This tent is perfect for 3 seasons camping and features lots of thoughtful features, like gear pockets and extra room to spread out, or bring your furry friend.
Marmot Tungsten 2P: The Marmot Tungsten is a great tent that is affordable (almost $100 less than the REI Half Dome) and lightweight enough for backpacking, and comfortable enough for car camping. The 2P Tungsten Tent weighs 5lbs 14oz (packaged weight), making it the heaviest tent on this list, but still manageable, especially if split between 2 people.
We use an older version of Marmot 3p for our car camping adventures. Marmot's tents are reliable, affordable, and easy to set up and take down.
REI Trailmade 2P: REI also recently launched their "Trailmade" collection, aimed at providing quality backpacking gear for beginners, including 2 Person and 1 Person free-standing tents suitable for car camping and backpacking at less than $200. At a packaged weight of 5lbs and 7oz, this tent isn't as lightweight as the Half Dome, but it is by far the cheapest reliable tent on the list.
REI also offers a "Trailmade 2 Backpacking Bundle" for under $350, that includes the Trailmade 2 Tent, Self Inflating Sleeping Pad, and Trailmade 20 Sleeping bag. This bundle is the best deal out there if you're looking to for the gear you need as a beginner backpacker.
Sleeping Bags & Sleeping Pads for Beginner Backpackers
Your sleep system includes both your sleeping bag and sleeping pad.
Sleeping Bags
Sleeping bags come in a variety of shapes, materials, and temperature ratings:
Semi-rectangular and Mummy style sleeping bags fit snugly around head and body. These bags are warmer and lighter and more often used for backpacking or cold weather camping. More brands, like Nemo, are starting to offer "spoon" shaped sleeping bags, designed specifically for side sleepers.
If you are a cold sleeper, choose a sleeping bag that is rated at least 10 degrees warmer than your expected nighttime temps. You can always unzip a sleeping bag that is too warm.
Synthetic sleeping bags use man-made insulation to keep you warm and are cheaper and bulkier. Down bags are more expensive but lighter weight.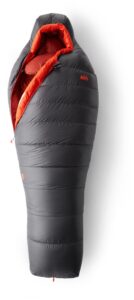 REI Magma 15 Women's Sleeping Bag

REI Trailmade 20 Sleeping Bag

The North Face Cat's Meow 20 Eco Sleeping Bag – Women's
Backpacking quilts work a little differently than sleeping bags. Quilts are, essentially, the top half of a sleeping back and wrap around you like a blanket. Because they use less material than a sleeping back and don't have a zipper or hood, quilts rely on your sleeping pad to provide warmth for the underside of your body. The benefit is that they weigh substantially less than a traditional mummy bag.
If you are just starting out backpacking or camping, you probably want to start out with a traditional sleeping bag. Once you get experience and learn what you do an don't like in your sleeping setup, then you might want to venture into the world of quilts and hammocks. A good place to start is the Enlightened Equipment Revelation quilt, a favorite among ultralight backpackers.
Sleeping Pads
Not only does the sleeping pad protect you from discomfort , its insulates your body from the cold ground, which can zap your body heat.
The higher the "r" value of a sleeping pad, the more it insulates against the cold. Sleeping pads come in 3 styles:
Air Pads – inflatable air pads are compact, lightweight, and usually pack down to the size of a water bottle. Make sure to test your air pads before your backpacking trip to identify any leaks or punctures.
Self-Inflating – self-inflating sleeping pads are a combination of air pads with foam insulation. These pads are "self-inflating" because opening the valve allows the foam to expand and brings in air. These pads are often bulkier and heavier than air pads.
Closed Cell Foam Mats – These pads are made of dense foam. They are less comfortable than air pads, but are lightweight, inexpensive, and you don't have to worry about punctures.
What is R-Value?
The warmth of a sleeping pad is measured in "R-Value." The higher the R-Value of a sleeping pad, the more it insulates against the cold.
For warm weather camping, an R-value of 3 is usually sufficient. For high-altitude or cold weather camping, look for an R value of 4+.
R value is also cumulative. Which means that you can stack multiple sleeping pads on top of each other and add up their combined R value for additional warmth.
As a cold sleeper, I like layer my Nemo Switchback closed cell foam mat (r-value 2) and my Sea-to-Summit Sleeping Pad (r-value 3.5) for a combined 5.5 r-value, perfect for most seasons.
If you're looking for a sleeping pad for your first time backpacking, these pads are a good place to start:
REI Trailmade Self Inflating Sleeping Pad

NEMO Switchback Sleeping Pad

Sea to Summit Comfort Lite Sleeping Pad
8. DO Re-wear Your Clothing
One of the best ways to save weight is to rewear your clothes. While you may cringe at the idea of rewearing your sweaty hiking clothes multiple days in a row, I promise its one of the first things you'll get used to on the trail – especially when you see everyone else doing the same!
That said, I was plenty glad for a fresh pair of underwear every day and suggest you do the same for your first trip. I also brought an extra pair of socks for sleeping and to protect my feet from sweat-induced blisters.
Backpacking Tip for Beginners : Wear your clean, warm, base layers to bed.
To help with hygiene, make sure to bring clothes that are moisture wicking and antimicrobial.
9. DO Carry a GPS and Personal Safety Device (and have a way to charge them!)
I always carry my Garmin InReach Mini while hiking and backpacking. This mini satellite communicator allows you to contact emergency services (but only use it in a TRUE emergency) Not only did I love the extra peace of mind of knowing that I could access Search and Rescue, I was able to text my husband goodnight every night, and let him know we were doing OK! ☺️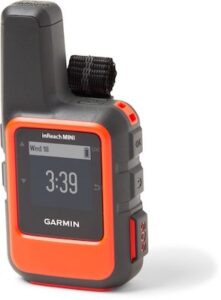 Garmin InReach Mini
If you aren't going with a guided tour (and even if you are), I highly recommend also bringing a GPS equipped device and a map.
Lastly, don't forget a power source for any of these important items! While my Garmin InReach can last many days without a charge, I brought a small battery pack to keep my phone (which is also my camera, e-book, ect.) charged.
10. DO Protect Your Food and Gear from Wildlife
An easy, but dangerous, mistake that beginner backpackers make is forgetting to properly secure any food or scented items – yes including your toothpaste, trash, and other toiletries.
Properly securing your food is about more than just avoiding a hungry critter making off with your dinner, it can be the difference between life and death – for hikers AND wildlife.
Animals who associate humans with food may become aggressive towards people, causing serious problems with tragic outcomes. Large predators, like bears, who become aggressive looking for human food must occasionally be euthanized to protect campers and hikers. By properly storing food you save bears, coyotes, and other wildlife from a tragic fate.
Research any food storage recommendations and requirements along your backpacking route. Use bear boxes and cables where available, and store belongings in scent-proof bear canisters and bags.
Learn more here about how to protect your food (and scented items), including methods to throw a proper "bear hang."
11. DON'T forget Hiker Hygiene
Backpacking is a messy endeavor. Make sure to follow these backpacking hygiene tips for beginners to stay clean, safe, and sane on the trail:
Sanitize frequently! Have hand sanitizer available and use it before and after using the bathroom, eating or cleaning any cuts and scrapes.
ALWAYS camp, clean, and use the bathroom 200 feet from the trail and water sources.
Follow Leave No Trace Principles when it comes to using the bathroom.
Take wet clothing off at the end of the day and change into dry clothing. Wet clothes can cause blisters and all sorts of infections.
12. DON'T Ignore Your Feet
If you take care of your feet – your feet will take care of you! Your feet are your most important asset to protect when backpacking. After all, they're your only form of transportation!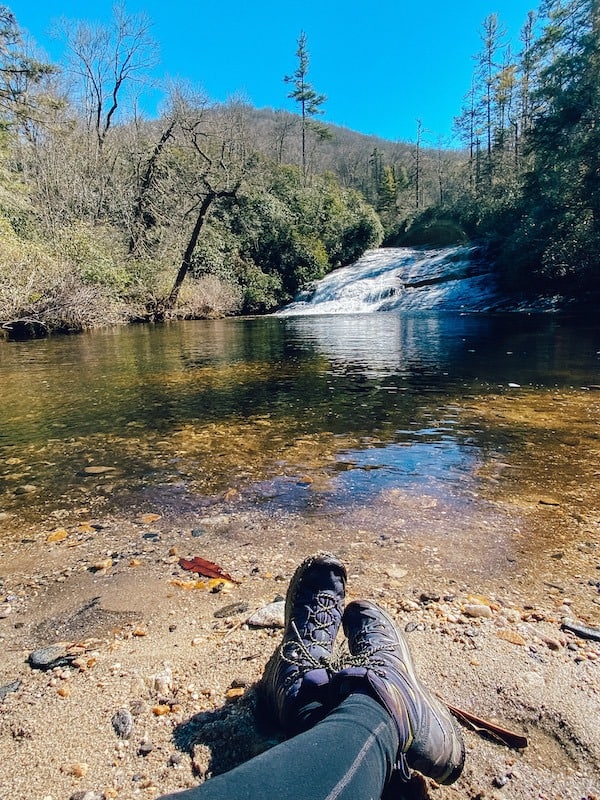 Backpacking Tips for Beginners: IMMEDIATELY address any foot discomfort, like rubbing, hot spots, or pain. Blisters can be incredibly painful, and the best solution is to prevent them in the first place.
If you start to feel rubbing or a "hot spot" forming on your feet (or anywhere else), it's best to immediately stop and address it. Put medical tape (Leukotape is a favorite among backpackers & hikers) or Moleskin on hot spots before the blister forms. If you end up with a blister anyway, carefully treat any open wound with an antibacterial ointment and keep it covered with a bandaid. Don't put medical tape directly onto an open blister, as you might tear the skin off – ouch!
Buy and wear quality hiking socks. I prefer wool socks from Darn Tough or Smartwool. Wool is moisture wicking and naturally antimicrobial.
A good backpacking tip for beginners is to bring at least one extra pair of socks when backpacking. Keep your feet and toes clean and free of blister-causing debris. If weather permits, consider letting your feet air-out in the sunshine for a bit, or bring "camp shoes" – lightweight sandals to wear after you're done hiking for the day.
13. DO Stay Hydrated on the Trail
If you're backpacking for more than 1 night, you're most likely going to need to find and filter your own water. Most hikers use the Sawyer water filter system (which conveniently can be screwed onto the top of a SmartWater bottle) or similar filter system. I use my Sawyer Squeeze paired with a CNOC Vector 2L bag to collect and store water for filtering.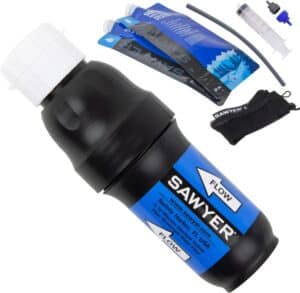 Sawyer Squeeze Water Filter System
Backpacking Tips for Beginners: ALWAYS designate your "Clean" and "Dirty" water containers and don't cross contaminate!
For your first backpacking trip, I recommend hiking in an area with reliable and frequent water sources. Camp near (but more than 200 feet from) a water source and filter water before and at the end of each day.
Research and practice using your water filtration system before hitting the trail. If you are hiking solo, consider bringing a backup emergency filter, like a Lifestraw or Iodine and Chlorine tablets.
14. DO Understand and Practice Leave No Trace
Backcountry camping and hiking is an extraordinary opportunity to connect with nature. But it also means more opportunities to leave a negative impact on the wilderness around you!
Before heading out on your first (or second, or third…) backpacking trip, take a moment to review the Principles of Leave No Trace.
15. And Remember – Mistakes are Inevitable
Becoming a backpacker is a series of trial and error. The only way to get better is to go out there and do it! As long as you are safe and lean into having fun – even your dumbest mistakes become a hilarious story after you return.
Some of the memorable mistakes I made on my first backpacking trip included:
Not properly adjusting my backpacking pack for several hours – I could have saved myself from some sore shoulders here!
Bringing makeup. I know 🙄. To each their own, but seriously, you won't wear it. Bring some moisturizing sunscreen and deodorant if you must and call it a day.
Not bringing a warm enough sleeping bag. Don't forget to factor in wind chill when picking your sleeping bag!
Bring a camping pillow. In an insane attempt to prove how "tough" I was, I decided to just curl up with my clothes as a pillow instead of pack the extra weight. I think my neck still hurts. If you have the space, bring a compressible pillow – you'll thank me later!
And the number one mistake I made on my first backpacking trip was: Not going sooner! For way too long I let nerves and fear of backpacking hold me back. And it didn't have to! By building your skills and learning these backpacking tips for beginners, you'll be a pro backpacker in no time at all.