Every year, thousands of hikers flock to the rugged White Mountains in New Hampshire. The Whites are a hikers paradise with rocky trails lead to flowing waterfalls, and challenging alpine summits. But only a lucky few ever experience the magic of spending a night in an AMC Hut among the granite peaks and sweeping vistas.
These 8 backcountry mountain lodges, managed by the Appalachian Mountain Club, can only be accessed by foot. And while the accommodations are spartan and the trails rugged, the rustic summer-camp vibes and unmatched scenery keep families and hikers (myself included) returning year after year.
After several summers spent in the AMC Huts I can confidently say that a stay at these alpine bunkhouses is a must-do on every hiker and adventure lovers bucket list! This guide covers everything you need to know to start planning your ultimate New Hampshire AMC hut adventure.
Disclosure: AMC generously hosted me for free at the Greenleaf Hut this past summer. This page may contain affiliate links where I earn a small commission from any purchase – at no extra cost to you. This commission helps keep Brooke In Boots up and running. As always, all opinions are 100% honest and my own!
About the Appalachian Mountain Club Huts in New Hampshire
The Appalachian Mountain Club operates 8 backcountry "huts" in New Hampshire's White Mountain region. The huts are hike-in only, meaning you, and all your gear, have to get to the hut on foot.
Hikers can stay at one hut and use it as a basecamp for exploring the nearby peaks, or backpack from hut-to-hut on a multi-day adventure.
During the summer season, the huts are "full service," which includes your bunk, shared restrooms (no showers), wool blankets, a pillow, dinner, and a hearty breakfast. The costs range from $175 to $375 per person per night.
AMC members receive 20% discounts on huts, trips, and other purchases. Members help support the AMC's mission to protect the mountains, forests, and wild places of New England and the Mid Atlantic. In addition to operating huts, lodges, and campgrounds throughout the region, the AMC provides hands-on trail maintenance, public policy advocacy, and scientific research to protect our precious public lands. Learn more about AMC's work and mission, here.
What is Staying at an AMC Hut Really Like?
I've stayed at three AMC Huts over two summers, and it is honestly my favorite outdoor experience in all of the Northeast! Staying at at least one of these huts should be on every hiker and adventure lover's bucket list.
Staying at an AMC Hut is like attending adult summer camp, only with better food. The atmosphere is festive and welcoming, thanks in large part to the twenty-something staff members who keep the huts running, called a "Croo." (Don't ask why its "croo" not "crew" – nobody knows, its just been that way for decades.) The Croo maintain the hut, prepare delicious meals, and sherpa supplies for the huts up and down the mountain twice weekly. The Croo, mostly college-aged kids, also host educational talks, activities, and generally foster the incredible vibes that keep many visitors returning year-after-year.
A typical AMC Hut adventure involves an arduous hike up the trail to the hut itself. If you aren't used to the rocky trails and relentless elevation gain of the Whites, expect even a short hike to take longer than you'd think. Once you arrive at the hut, treat yourself to a well-earned cold glass of lemonade and claim your bed in the communal, co-ed bunk rooms. Each bunk comes with vinyl topped mattress (yes, like the ones you had at summer camp), two wool blankets and a pillow.
Choosing your bunk? The top bunks offer more privacy but require a bit of scrambling to get up and down, especially when nature calls in the middle of the night. Bottom bunks are the easiest to access, and usually the first to be claimed.
Dinners are served promptly at 6pm (the Croo will ring a bell and call you for dinner) which includes a hearty soup, salad, and filling entree like lasagna, plus a delicious desert. Vegetarian and gluten-free meals are available upon request.
After dinner, enjoy a nature talk from a Croo member, or if you're lucky, enjoy a stunning alpine sunset. As the sun goes down, curl up in your bunk with a book from the Hut's library, or play a board game provided by the Croo with your new found friends. Lights go out at 9:30PM.
In the morning, the Croo serenades everyone awake with a song (sometimes funny, sometimes sweet) and fresh coffee. At 7 AM, a hearty breakfast is served family-style. While you stuff your face with oatmeal, sausage, and pancakes, the Croo will perform a silly skit about Leave No Trace and checkout procedures. The Croo will also provide local weather updates from the Mount Washington Observatory.
Once your bunk is packed, get an early start to summiting a nearby peak, descending back down the mountain, or heading out towards your next hut! The huts are all located less than 8 miles from each other, making a multi-day hut-to-hut excursion super easy.
Planning Your New Hampshire AMC Huts Adventure
Before booking your AMC Hut reservation, carefully research which trails, routes, and huts you want to visit, and which are appropriate for your skill level.
If you aren't familiar with the White Mountains, check out the AMC's White Mountain Guide. This book (now in its 31st edition) is a must-have resource for all things in the Whites. The guide includes pull out topo maps, detailed trail notes, and suggested hikes for every ability level.
The chart below provides a quick look at each of the White Mountain huts and their most commonly used trailheads.
Looking for suggested itineraries? Check out my favorite hut itineraries below!
AMC Hut
Elevation
Capacity
Trailhead Access
Distance & Trail Details
Carter Notch
3,288′
40
Nineteen-Mile Brook
3.8 miles via Nineteen-Mile
Brook Trail. 2000 ft gain. 3 – 4 Hours. Moderate.
Galehead
3,780′
38
Gale River Trail
4.6 miles via the Gale River Trail. 2,250 ft gain. 3 – 5 hours. Strenuous.
Greenleaf
4,220′
48
Old Bridle Path / Lafayette Campground
2.9 Miles via Old Bridle Path Trail. 2,500 ft gain. 3-5 hours. Strenuous. Or access via Franconia Loop: Falling Waters and Appalachian Trail – 5.8 Miles, 3,800′ gain. See below for more details.
Lakes of the Clouds
5,012′
90
Ammonoosuc Ravine Trail / multiple trailheads
Direct access from the strenuous Ammonoosuc Ravine Trail, 3 miles. 2,600 ft gain. 3 – 4 hours. Or access via Mount Washington and the Crawford Path (Appalachian Trail) or the Presidential Traverse. See below for more details.
Lonesome Lake
2,730′
48
Lafayette Campground
1.6 miles via Lonesome Lake Trail. 1000′ ft gain. 1 -2 Hours. Moderate
Madison Spring
4,600′
52
Appalachia
3.8 miles via the Valley Way Trail. 3,550 ft gain. 3 – 5 hours. Strenuous. Or access via Mount Washington and the Crawford Path (Appalachian Trail) or the Presidential Traverse. See below for more details.
Mizpah Spring
3,777′
60
Crawford Path
2.7 miles via the Crawford Path. 2000 ft gain. Moderate. Or access via Mount Washington and the the Presidential Traverse. See below for more details.
Zealand Falls
2,640′
36
Zealand
2.8 miles via the Zealand Trail. 600 ft gain. 1 – 3 hours. Easy.
Where are the AMC Huts located in the White Mountains?
The vast White Mountains covers over a quarter of the state of New Hampshire (and a little bit of Maine). The huts are located along the Appalachian Trail (or 'AT'), the famed long-distance hiking trail from Georgia to Maine. The AT which traverses the White Mountains from Southwest to Northeast.
The AMC huts are accessible from many different trailheads, both as day hikes and multi-day treks. Before setting out on your adventure, take care to make careful note of which trailhead you will be using. Thanks to the rugged and rural nature of the area, trailheads may look close together on a map, but in reality might be an hour or more drive apart.
This map below shows the approximate locations of each of the 8 AMC White Mountain huts.
AMC Hut Reservations
Start your planning early! Reservations are required for all huts, and during the summer these spots are extremely popular. Book reservations as far in advance as possible, especially for weekend trips. Weekday reservations are easier to book last minute.
Reservations can book up months in advance. Full-service huts operate seasonally, open from June through September or October.
You can book AMC Hut reservations here.
Outside of the summer season, huts may be open for a modified self-service season. During this time, the huts are unstaffed, except for a winter caretaker, and guests have access to the full kitchen and unheated bunkrooms. Only the most prepared and experienced hikers and backcountry skiers should brave the Whites during winter conditions.
Suggested AMC Hut Itineraries & Hiking Routes
Looking for inspiration for your next AMC Hut trip? Check out one of these suggested AMC Hut itineraries for your next weekend adventure. I can personally vouch for the Franconia Ridge and Presidential Traverse routes – I did them in 2023 and 2022 and they remain some of my favorite adventures in the past few years!
The Best AMC Hut for Families
Planning a trip to an AMC Hut with your kids? Or maybe you want to experience life in the backcountry without a strenuous climb? A night at the Zealand Falls Hut is the perfect choice.
The Zealand backcountry hut is accessed by the easy and family-friendly 2.8 mile Zealand Trail. On the way, you'll pass Zealand Falls, as well as small ponds and lakes where moose and other wildlife love to gather.
If you and your little ones are in the mood to keep hiking, there are dozens of summits and vista points accessible from the Hut's trails, including Zeacliff (1.2 miles one way) Mt. Hale (2.8 miles one way), and Mt. Tom (3.7 miles one way).
Greenleaf Hut & the Franconia Ridge Loop – A Bucket List Hike
The Franconia Ridge Loop has been called one of the best hikes in the Northeast, in fact National Geographic called it one of the best hikes in the world. And thats for good reason.
After climbing 3,000 vertical feet in just 3 miles, the loop traverses the Franconia Ridge for 2 miles of absolutely sublime alpine trail. Hikers summit 3 separate 4,000er peaks on the Loop: Little Haystack (4,760′), Lincoln (5,089), and Lafayette (5,249′).
I hiked the entire traverse in 2021 and summited Lafayette twice during my 2023 trip to the Greenleaf Hut, and its still my favorite hike on the East Coast.
The Franconia Ridge loop is made up of 3 trails: ascending via the Falling Waters Trail, traversing the ridge via the Franconia Ridge Trail (which is also the Appalachian Trail) and descending via the Old Bridle Path.
Most hikers traverse the entire 8.6 miles (and total 3,900′ elevation gain) in one day. But the best way to experience the loop is to stay the night at the Greenleaf Hut, located directly on the Old Bridle Path, about 1 mile below the summit of Lafayette.
While the loop can be traversed in either direction, it is strongly suggested to ascend the ridge via the Falling Waters Trail and descend via the Old Bridle Path Trail, in order to more safely traverse some of the more difficult rock scrambles on the ascent. Traversing the loop in this direction also means you'll get to experience most of the loop trail before relaxing and enjoying a cold glass of lemonade and hearty dinner at the Greenleaf Hut, before descending the next morning.
The Presidential Traverse: The Ultimate Hut to Hut Adventure
Looking for the ultimate AMC hut to hut challenge in the White Mountains? Fit hikers should consider the Presidential Traverse, the ultimate hut to hut hike in the White Mountains. This 18 – 24 mile hike is not for the faint of heart, but the rewards are unmatched views and summits some of the most iconic peaks in the Northeast.
Most experienced and very fit hikers aim to complete the entire traverse in one very long 12+ hour day. But in my opinion, the Traverse is really best enjoyed as a multi-day hut-to-hut hike to some of the best AMC huts in the region.
The traditional north-to-south route starts at the Appalachia Trailhead and ascends on the Valley Way Trail 3.5 miles, and 3,500′, to the Madison Spring Hut, located at the timberline on Mt. Madison. Drop your bags, and dash to the summit, another 0.4 miles uphill. Enjoy a hearty dinner and a spectacular sunset over White Mountain National Forest.
On Day 2, ascend and descend Mt Adams (5,774′), Mt Jefferson (5,712′), Mt Clay (5,525′), and finally Mt Washington (6,288′), the highest peak in the Northeast. The trail largely follows the well-marked Gulfside Trail, which is also the Appalachian Trail, with short spur trails connecting you to the summits.
Spend your second night at Lakes of the Clouds Hut, which appears, like Brigadoon, seemingly out of nowhere on the cloudy alpine slopes of Mount Washington, just 1.5 miles below the summit. Spend your final day bagging the final peaks of Mt Monroe (5,384′), Mt Franklin (5,001′), Mt Eisenhower (4,780′), Mt Pierce (4,310′), and Mt Jackson (4,052′) via the Crawford Path, Webster Trail and summit side trails. Arrive exhausted, but with unbelievable bragging rights, at Crawford Notch.
The Presidential Traverse is a point to point hike, meaning you will start and end at different trailheads. If you have two cars, you can park at both ends of the hike, or utilize the AMC Shuttle. The Presi's traditional route ends at the AMC Highland Center Lodge, which has ample parking. I suggest parking your car at this location, and taking the Hiker Shuttle to the Appalachia Trailhead.
Learn more about transportation and the AMC Hiker Shuttles below.
*Note: nearly this entire trail, from Madison Springs Hut onward is above the treeline. Exercise extreme caution and take cover when thunderstorms and lightning are present. Winter conditions may exist at any time of year, and deaths due to hypothermia and exposure occur every year in this area, even in summer. Do not attempt this trail if you are unprepared for severe conditions.
Transportation and Getting to the AMC Huts
Most visitors to the AMC Huts will want to drive and park at the trailhead, or use the convenient Hiker Shuttle to get to the trail. It takes about three hours to drive to the White Mountains from Boston, and about 7 hours from New York City.
Flying? The closest commercial airports to the White Mountain huts are Manchester-Boston Regional Airport (2 Hours), Portland International Airport, Maine (2 Hours), and Boston Logan International Airport, Massachusetts (2.5 -3 Hours).
The AMC Highland Center, located in beautiful Crawford Notch, on the western side between the Franconia and Presidential peaks, is a natural jumping-off point for exploring the Whites.
Park at the Highland Center and take advantage of the summer AMC Hiker Shuttle, which makes stops at most major trailheads and commonly used hut access trails. The Hiker Shuttle costs $24 per-person one-way ($20 for AMC members). Click here to view the updated Hiker Shuttle Schedule.
Reservations for the AMC Hiker Shuttle are strongly recommended. Call ahead to reserve your space: (603) 466-2727
On the eastern side of the range, Pinkham Notch Visitor Center makes an excellent point from which to explore Wildcat Ridge and nearby Carter Notch Hut.
AMC White Mountain Lodging and Shuttle Map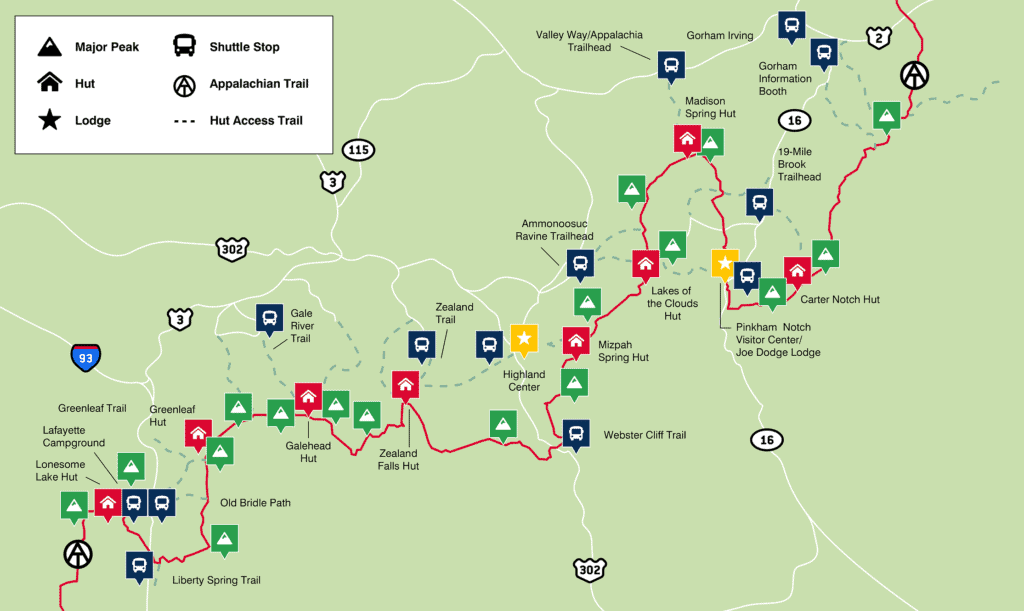 Trailhead parking can be notoriously crowded at the more popular trails, such as the Old Bridle Path trailhead at the start of the Franconia Loop. Plan to arrive early (before 8am) on weekends, and carpool or use Hiker Shuttles when possible. Always obey all posted parking and traffic signs.
Packing for your AMC Huts Adventure
Staying overnight in the AMC Huts is an opportunity to experience the adventure of the backcountry, without having to carry a tent, stove, and other backpacking essentials. Still, there are a few important items to pack when planning an overnight hut trip:
Hiking Gear
A good backpack is essential for carrying your gear up the mountain. While you don't need a full "backpacking pack" you'll probably require a little more carrying capacity than your usual day-hiking bag. Consider a bag between 25 and 45 liters capacity, like the Osprey Sirrus 36 Pack or REI Traverse 32 Pack.
In addition to a good backpack, you'll also need durable hiking shoes with good traction, such as the Merrell Moab or Altra Lone Peaks. Leave the sneakers at home, they aren't up for the job here.
Trekking poles aren't required, but I find them immensely helpful in navigating the very rocky trails around the huts. Poles are particularly helpful at reducing impact on your knees, legs, and feet.
Weather in the White Mountains is notoriously extreme. Make sure to carry a warm jacket, like a fleece or insulated down jacket, even in summer. A lightweight rain jacket and rain cover for your pack is also a must. If the forecast calls for rain, consider also lining the inside of your pack with a waterproof garbage bag.
Always carry the 10 Essentials when day hiking. These items are especially important in an area as rugged and extreme as the White Mountains. The 10 essentials are:
Navigation
Headlamp
Sun Protection (sunscreen & hat)
First Aid Kit
Gear Repair – Knife, Multi tool, repair tape
Fire
Emergency Shelter
Food
Water
Extra Clothing
Learn more about the 10 essentials and packing for a day hike, here.
Food & Water
Make sure to carry enough water, ideally ½ liter of water for every half hour of hiking. Water is available during the summer season for all hikers at each of the AMC Huts, as well as the concessionaire services at the summit of Mt. Washington.
If you plan on hiking hut-to-hut, you may need to filter water from streams and water sources along the way. DO NOT drink untreated water. Carry and use a filtration device (I use the Sawyer Squeeze) or sterilization system.
Dinner and breakfast are provided at the huts, so the only food you'll need are trail snacks and packed lunch, if needed. Don't forget all trash must be packed out by you. There are no trash cans at the huts, so it is your responsibility to carry out every granola bar wrapper and apple core.
Overnight Essentials
Bring a simple pair of sleeping clothes and a pair of comfortable camp shoes for walking around the hut at night.
Don't forget your toothbrush, toothpaste, deodorant, brush, and any other essential toiletries and medications. You can leave the shampoo at home – there are no showers at the huts.
There also aren't any electrical outlets, so bring a portable power bank to keep your phone and camera juiced up (but don't expect reliable cell service at most of the huts).
Each bunk comes with two wool blankets and a pillow. Most guests will opt to bring a lightweight sleeping bag, or a twin sized flat sheet for a more comfortable night's sleep. Light sleeper? Consider bringing an eye mask and ear plugs to block out the sound of your bunkmates tossing and turning all night!
Brooke's Tip: Resist the urge to overpack when planning your hut trip, you'll thank me when you aren't carrying an overstuffed pack up and down the mountains!
Don't have all the gear? All hikers staying at the AMC Huts and Lodges can use the LL Bean Gear Room at the AMC Highland Center for free! The gear room includes backpacks, sleeping bags, hiking boots, trekking poles, rain gear, and warm jackets to rent out for your trip.
Important Tips for Hiking in the White Mountains
The unique nature of the Whites makes hiking here an adventure more like summiting peaks in the Rockies or Sierras than anywhere else on the East Coast. If you have never hiked New Hampshire's rugged peaks before, here are a couple of important tips for hiking in the White Mountains.
Take the weather seriously. The White Mountains are located at the confluence of naturally occurring weather systems called jet streams. The low altitude of the jet stream in this area, combined with the relatively high elevation profile of the peaks, all conspire to make the weather in the Whites some of the most severe conditions on earth. Mount Washington has recorded the highest sustained wind speed on earth (234 miles per hour!) and receives snow every month of the year.
All hikers in New Hampshire absolutely must take the threat of severe weather seriously, carry warm clothing, rain gear, and emergency essentials at all times, and be prepared to turn around.
Remember, mountain summit weather can be very different than weather forecast for nearby valley towns. Use the Mount Washington Observatory weather forecasts for on-mountain weather predictions in the area. View forecasts for specific AMC Huts, here.
Know what to do when lightning approaches. Summer thunderstorms are common. If the forecast calls for the possibility of lightning, time your hike to arrive at the huts well before the storms hit.
If you are caught above the tree line during a storm, take immediate action. Fatalities have occurred from lightning in this area. Seek cover in a forested area and avoid being, or standing near, the tallest objects in the area (a lone tree, or pole). Learn more about lightning safety in the mountains, here.
Be prepared for a rough trail. Most trails to the AMC huts are rugged and rocky. Some require scrambling over large boulders or slick granite slabs. There are very few switchbacks and most trails take a direct, and steep, route up the mountain. This type of hiking can be exhausting, so don't be surprised to move at a slightly slower pace!
There is no technical climbing or class IIII scrambling required to reach the huts using the common routes. As long as you exercise caution, common sense, and bring a good pair of hiking shoes (not sneakers or sandals), even kids and inexperienced hikers should make it up the trail just fine!
AMC Lodges in the White Mountains
Not ready for a hut? The AMC also operates 2 full-service lodges in the White Mountains of New Hampshire: the Joe Dodge Lodge and Highland Center.
The Joe Dodge Lodge is located in Pinkham Notch at the base of Mount Washington. The Lodge is conveniently located at the entrance to the Mt Washington auto road. The Highland Center is located in Crawford Notch, at the base of the Presidential range. This area is one of the most beautiful and popular hiking destinations in the Northeast, and my personal favorite trail!
Both lodges are the perfect basecamp for day-hiking adventures into the White mountains. Simply park your car at the lodge and step right onto the trails or use the AMC hiker shuttle to access the most popular trailheads without the headache of parking. Breakfast and dinner are included, as well as complimentary gear rentals provided by LL Bean. Learn more, here.
More Adventure Guides
Explore more National Parks and iconic hikes in these guides:
Big Bend: Epic Big Bend Itinerary Guide
Cuyahoga Valley: 17 Best Things to Do in Cuyahoga Valley National Park
Great Smoky Mountains: The Ultimate Great Smoky Mountains Itinerary in 2 Days
Joshua Tree: The Perfect Day Trip to Joshua Tree National Park
New River Gorge: The Best Hikes in New River Gorge National Park
Yosemite: Epic Yosemite 2 Day Itinerary – How to Spend 2 Perfect Days in Yosemite
Zion: Epic Zion National Park Itinerary Guide
National Parks: Get the Ultimate National Parks Planning Guide (for free!) sent to your inbox, full of important planning information, printable packing lists, and the best things to do in all 63 National Parks.