Is there anything better than hitting the open road, going from one epic National Park to the next? But these days, with permits and reservations, crowds, and rental car shortages, planning a National Park road trip can feel totally overwhelming. But it doesn't have to be! This guide covers the best, must-know, tips for planning your next, epic, National Parks roadtrip.
I've planned dozens of National Park road trips over the years and I've put together my best tips for exploring these incredible parks, hassle-free.
This post may contain some affiliate links, which means if you buy something, my blog will receive a small commission at no extra cost to you. I will never recommend products or links on this blog that I have not personally used or fully endorse.
1. Start Planning Early
Start planning a National Parks road trip planning as early as possible, ideally 6 months to 1 year in advance.
Why so early?
Reservations for the most popular campgrounds in places like Yosemite and Yellowstone sell out within seconds of going online (seriously – not an exaggeration!) And the recent creation of timed-entry reservations and day-hike permits at the most popular parks means that planning ahead is more important than ever.
If you have your mind set on planning a national parks road trip to a specific park, create calendar reminders for reservation and permit window openings and make sure to start planning your bucket-list trip as soon as possible!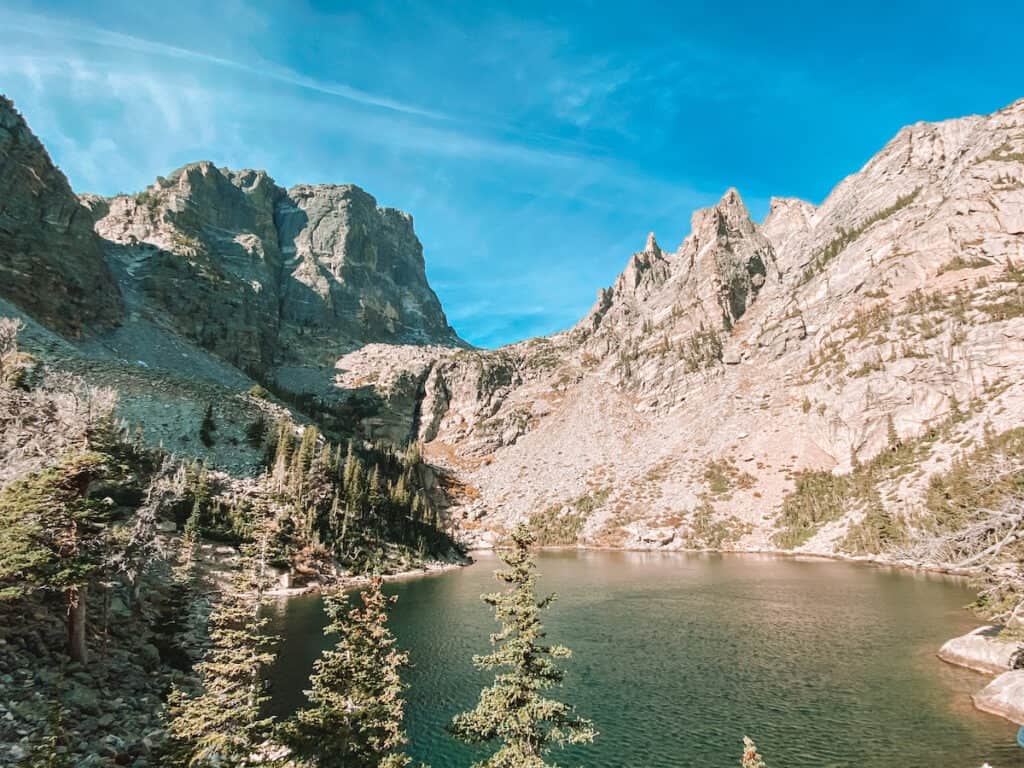 2. Planning A Last Minute National Parks Road Trip? Don't Panic!
Trying to plan a trip last minute? Don't worry, planning a spontaneous National Park road trip is still possible. Keep these tips in mind if you're planning a trip within the next 3 months:
Consider a trip to one of the many lesser visited National Parks, plan your visit for the weekdays or off-season, and research hikes that don't require special permits.
If you want to snag a reservation at in-park lodging, call their reservations line daily and ask if they have any cancellations for your range of dates. It may seem like a long shot, but I've booked many National Park reservations at the most popular hotels, like Zion and Yosemite Lodges, this way!
Camping? Choose parks that have first-come-first-serve campgrounds and plan to get there early.
3. Pick Your Parks
With 63 National Parks and thousands of NPS managed monuments and recreation areas, picking your parks can easily be the most difficult part of your National Parks road trip.
When choosing your Park or Parks, consider what kind of experience you are looking for?
Do you prefer forests, mountains, deserts, or the beach?
Do you want easily accessible, but crowded Parks? Or will you go out of your way to avoid the crowds?
Will you drive from home, or fly and rent a car?
Want to know what Parks are close to you? Check out the map below to find your nearest National Park, or explore other areas of the United States and find where you might want to explore!
Map of all United States National Parks
How to Use This Map: Click the Icons on the map to see more information about each location. Click the arrow button on the top left to expand the list and view all Parks by region. Click the star at the top of the map to add the map to your Google Maps account.
4. Consider Exploring Less Visited Parks
Do you dream of visiting Yosemite, Arches, or hiking in Rocky Mountain or Great Smoky Mountain? Well, unfortunately, so does everyone else. 😂 While these popular parks absolutely live up to the hype, each of the 63 National Parks has something special to offer.
Consider planning a national parks road trip to some of the lesser visited National Parks. You'll avoid huge crowds and have a better pick of hotel and campground options.
5. Research National Parks Permits and Entry Reservations
After you pick the parks you want to visit, start researching whether those parks require special permits and timed-entry reservations to visit.
With record-breaking crowds, some parks are introducing day-hike permits and timed reservation entries like Arches, Rocky Mountain, and Yosemite. Before booking flights or hotels, research any National Parks that you plan on visiting carefully to understand permit and reservation requirements that may affect your trip.
Luckily I've done all the work for you already! Check out my complete guide to every permit and reservation requirement at all 63 National Parks HERE.
6. Determine How Much Time You Need
National Park road trips can range from two days to several months. How long you need is up to you! Try and plan at least 1 week or more for a National Parks road trip, including the drive to, from, and between parks.
If you plan on visiting only one National Park, plan your visit for most parks for at least 3 full days to really explore the park in depth.
Visiting multiple parks? Try and give yourself at least two full days inside each park, with one fully day of travel between most parks.
7. Create A National Park Road Trip Map
Once you have your list of National Parks you want to visit, its time to make your road trip map!
I use Google My Maps to plan all my road trips. This planning tool is an absolute must if you are planning a long or complicated National Parks road trip itinerary with multiple stops.
Add all the Parks in you are planning to visit to the map. This will give you a good idea which parks are nearest to each other and help identify your routes. Once you have your general route, you can start researching restaurants, points of interests (like state parks or kitschy roadside attractions) or hotels along the way. `
Once you've finished your itinerary, download the map to my phone or print (yes, I'm old fashioned) for offline use. Don't rely only on your phone for directions. Many National Parks are located in areas with limited or zero cell service.
Want to learn more about planning an epic National Parks trip? Grab my free Ultimate National Parks Planning Guide below. It includes 70+ pages of printable packing checklists, my best planning tips, and everything you need to know to start planning a trip to all 63 National Parks!
8. Suggested Short National Parks Road Trip Itineraries
Short on time? Some National Parks are located very close together and make the perfect road trip itinerary for a short trip.
Suggested Short National Parks Road Trip Itineraries:
(All drive times are between visitor centers)
Arches and Canyonlands (Islands in the Sky District) (Moab, UT): 35-minute drive.
Sequoia and Kings Canyon (Three Rivers, CA): These two parks border each other and are jointly managed. 45-minute drive.
Sequoia and Kings Canyon and Yosemite (California): 4-hour drive.
Yellowstone and Grand Teton (Wyoming): 2-hour drive.
Guadalupe Mountains and Carlsbad Cavern (New Mexico): 45-minute drive.
Everglades (Shark Valley) and Biscayne (Florida): 2-hour drive.
9. Decide When to Visit Your National Parks
Visiting National Parks in Summer
Best National Parks to Visit in Summer: Mount Rainer, North Cascades, Glacier, all Alaska National Parks.
Summer is the most popular season for visiting National Parks. Long, sunny days and summer-break for children drive visitors to National Parks in the millions during this time.
Desert parks may see extreme temperatures during the summer. In fact, the world heat record was set in Death Valley National Park when rangers recorded the temp as 130 degrees Fahrenheit at the Furnace Valley Visitor's Center in July, 2021.
Visiting National Parks in Spring and Fall
Best National Parks to Visit in Spring or Fall: Acadia, Great Smoky Mountains, Yellowstone, Rocky Mountain, Grand Teton, Utah Parks like Arches, Canyonlands, and Zion, California Parks like Yosemite, Sequoia, Kings Canyon, and Redwood.
The best time to visit most National Parks is during the "shoulder seasons" of Spring or Fall. The weather is generally pleasant at most popular parks during these seasons, although there is usually a heightened chance of rain, or even snow.
Research the parks you want to visit and find out when services are closed or reduced for the "off season " and plan to visit shortly before, or shortly after their "off-season" closures.
Visiting National Parks in Winter
Best National Parks to visit in Winter: Death Valley, Joshua Tree, Big Bend, Everglades
For those who are willing to brave the weather and travel a little more self-sufficiently, winter is a magical time to experience National Parks.
Many National Parks significantly limit their services during winter. Many National Park roads, trails, campgrounds, and visitor centers close in winter. Roads that remain open may have chain controls in effect (which are strictly enforced in National Parks) or may close temporarily during weather events.
Isle Royale National Park in Michigan is the only park to close completely in winter.
Planning a National Parks road trip in winter? Learn what you need for a safe and enjoyable winter hike.
When to Visit Tropical National Parks
Tropical National Parks, including Haleakala, Hawai'i Volcanoes, Dry Tortugas, Virgin Islands and National Park of American Samoa are generally warm year-round, but may experience a "rainy season" (Hawaii, November to March) or hurricane season (in Florida, June to November).
10. Book In-Park Campgrounds and Lodging
Once you know when you'll be traveling (and have your permits reserved, if applicable) the next important step is to book your campsites or lodging.
In-Park accommodations often book up months, if not a year in advance. Campground reservations in certain parks, like Yosemite, sell out within seconds of being released online. Research your options and make a plan to book as soon as possible.
While National Park lodges and campgrounds lack fancy amenities, I always recommend staying inside the park whenever possible.
Why?
➡️ Staying inside the park means you can be the first one on the trail or shuttle in the morning, and stay late to enjoy sunset when all the day-tripper crowds have gone!
➡️ In Park Lodging Guests are exempt from day-use reservation requirements
➡️ Guests staying outside the park often have to wait in line – sometimes for hours – to enter the Park, and drive times to popular locations can be hours from the nearest town.
Are most in-park hotels the Ritz? Heck no! (Okay, except for the Ahwahnee in Yosemite.) While some lodges are more rustic than others, most hotel-style accommodations have towels and linens, a telephone, and usually an in-room coffee maker and mini-fridge. Many lodges do not have televisions in every room, and wifi and cell service are often spotty or non-existent. Campgrounds may have limited amenities, and do not always have showers.
Not sure what to do when the sun goes down and theres no Netflix? I always bring a deck of cards, a book and journal, or a small, easy-to-carry game like Bananagrams. Instead of pining for wi-fi, I cherish the opportunity to unplug, relax from a long day of hiking, and enjoy some quality time with my husband.
11. Tips for Booking Hard-To-Get Campground and Lodging Reservations
Campground and hotel reservations in certain parks, like Yosemite, sell out within seconds of being released online, and many parks no longer have walk-in campgrounds.
Research your options and make a plan to book as soon as possible. Campground reservations are almost all booked through Recreation.gov. Spend time familiarizing yourself with the website, creating an account, and be prepared to book the literal minute reservations are released.
Park hotels and motels are mostly managed by private hotel concessionaires, meaning there is no one central reservations website. Visit the Park's official NPS website to learn about lodging options inside the park and find out how to book.
Is the lodge sold out? Don't panic! Call the hotel's reservations line frequently (I set a daily alarm on my phone) and ask if there are any cancellations on your desired dates. This method takes persistence and flexibility on your part – but it does work more often than not!
For example, I've made reservations at Zion Lodge for the 8th and 10th of my travel month, and called the lodge daily until a cancellation on the 9th occurred and I snatched it up! I've booked many trips at the most popular parks using this method!
12. Booking Rental Cars + Airfare
Once you have your lodging booked, book your rental car + airfare ASAP, if needed!
Remember most rental car companies do not allow you to drive on dirt or unpaved roads, and almost all prohibit the use of tire-chains.
If possible, I always opt to rent vehicle with 4 Wheel Drive. Some parks and seasons require the use of 4-Wheel or All Wheel drive, or tire-chains, especially in the western mountains and desert parks.
Read your rental conditions carefully and call ahead to make sure and get the right vehicle for your trip.
13. Buy a National Parks Annual Pass
Do you plan on visiting more than one National Park this year? I seriously recommend buying an annual parks pass!
The America the Beautiful Pass costs $80 and allows for unlimited entry into all sites covered by the Pass. While that sounds expensive up front, just consider that most Parks charge between $20 and $30 per vehicle for each visit.
That means you only have to use the pass 3-4 times before it pays for itself!
America the Beautiful Pass
Where Can You Use Your National Parks Annual Pass
The America the Beautiful annual pass covers so much more than just the 63 National Park. An annual pass can be used at more than 2,000 Federal recreation sites where entrance or day-use fees are charged.
Wondering what else to bring on your National Park Road Trip? Check out my complete National Park Packing Lists + Printable Guides!
Your America the Beautiful Pass can be used at sites managed by the following agencies:
National Park Service
Bureau of Land Management
Bureau of Reclamation
Fish and Wildlife Service
US Army Corps of Engineers
How to Buy an Annual National Parks Pass
You can purchase an annual pass in person, online, or at your local outdoor retailer. National Park annual passes are available for in-person purchase at most National Park and federal recreation entrance stations.
Passes can also be purchased online either at your favorite outdoor retailer, like REI, or through the USGS government website.
Discounted or free passes are available for Military, Seniors, 4th Graders, and Volunteers.
14. Plan Your Activities
After you've picked your parks and planned the logistics of your trip – now comes the fun part! Planning what to actually do at your National Parks.
Before booking your dates, take a look at any activities that will require a permit or reservation (for example, hiking Half Dome in Yosemite, Angel's Landing in Zion, or whitewater rafting in New River Gorge). Check availability for any of your "bucket-list" activities first so you don't miss out!
Not sure where to start? Make sure to read the NPS.gov website for important planning information, trail information, as well as ideas for what to do and see in each park.
Next, I always read as many blog posts as I can find about the parks and areas I'll be visiting.
---
Take a look at my National Parks guides here for suggestions on what to do, and where to hike in Yosemite, Big Bend, Great Smoky Mountains, New River Gorge , and Cuyahoga Valley (with more added soon!)
---
For all my trips, I keep an organized list of all the activities, hikes, and sights I'm interested in seeing.
Remember, there's more to do in National Parks than just hiking (although, that's always my favorite activity!). Many Parks have amazing and family-friendly activities beyond the trails, including bike rentals, rafting and tubing, horseback and mule riding, snorkeling, and scuba, and yes, even the spa!
15. Avoiding Crowds on Your National Parks Road Trip
With park visitation surging, crowds are now a given at most parks.
Park visitation peaks during summer, holidays, weekends, and "Free Entrance Days." If you can, travel in the "off" or shoulder seasons, and avoid peak visitation days, especially during the summer and fall.
Arrive as early as possible (before 7AM) to avoid long entrance lines or overcrowding at popular trails.
Choose less popular trails: Strenuous trails and trailheads that are more difficult to reach are often less crowded. If you are up for a challenge, these hikes can take you to some extraordinary places – leaving the crowds behind is just a bonus!
Most Importantly – Have Fun, Be Safe, and Leave No Trace
Planning a National Parks road trip can be stressful, but a trip to one of the incredible National Parks in the US is well worth the hassle!
While traveling, make sure take to take proper safety precautions (like packing your day-hiking essentials) and follow all posted signs, regulations, and ranger instructions.
With millions of visitors heading to our Parks this summer, its more important than ever to Leave No Trace!
And remember, no matter how well you plan, not everything will go according to your itinerary. Be flexible and patient and don't forget to actually have fun. Making beautiful memories is more important than capturing the perfect Instagram photo op or checking off another item on your bucket list!
---
Plan More Epic National Park Trips
Big Bend: Epic Big Bend Itinerary Guide
Cuyahoga Valley: 17 Best Things to Do in Cuyahoga Valley National Park
Great Smoky Mountains: The Ultimate Great Smoky Mountains Itinerary in 2 Days
Joshua Tree: The Perfect Day Trip to Joshua Tree National Park
New River Gorge: The Best Hikes in New River Gorge National Park
Yosemite: Epic Yosemite 2 Day Itinerary – How to Spend 2 Perfect Days in Yosemite
Zion: Epic Zion National Park Itinerary Guide
National Parks: Get the Ultimate National Parks Planning Guide (for free!) sent to your inbox, full of important planning information, printable packing lists, and the best things to do in all 63 National Parks.
Pin Me for Later!