Imagine rolling hills of vibrant yellow, orange, and red foliage. Or maybe you'd prefer desert solitude, without the boiling heat? Or perhaps you're dreaming of visiting the most popular National Parks like Yosemite and Grand Canyon, without the insane crowds? No matter what you're looking for, fall is the ideal time to visit one of the 63 United States National Parks.
On top of gorgeous views and great hiking weather, many National Parks have significantly fewer crowds after Labor Day. Lodging, camping, and permit reservations can be easier to score as well. In fact, fall is by far my favorite time to plan a National Park trip. Looking for a little inspiration for your fall getaway? Check out these 15 best National Parks to visit in fall.
Great Smoky Mountains National Park: Tennessee and North Carolina
With rolling mountain vistas painted orange and yellow, family-friendly waterfalls, and wildlife galore, it's easy to see why the Great Smoky Mountains is one of the best National Parks to visit in the Fall.
The Park encompasses more than 522,000 acres, one of the largest wilderness areas in the continental US. The region is a UNESCO World Heritage Site. The park also preserves over 70 historic log structures from European settlers who lived in the region during the 1800s.
Elevations in the park range from 876 feet to 6,643 feet, meaning that you can find vibrant fall foliage pretty much any time during the season. Don't miss a visit to Clingman's Dome Observation Tower for 360-degree views from the highest point in GSM. Scenic drives like Newfound Gap Road, and Cades Cove allow you to take in beautiful foliage right from your vehicle. Or grab your hiking shoes and explore the more than 800 miles of trails, including Alum Cave and Mt. Leconte. Gregory Bald, or Laurel Falls.
Read more about planning your fall getaway to Great Smoky Mountains with my free itinerary guide blog post, here.
Unfortunately, spectacular fall foliage also draws spectacular crowds during this time of year. Expect summer-level crowds, especially on the weekends. But if you're willing to sit in traffic, the endless rolling mountains of spectacular colors are worth the hassle!
Grand Teton National Park: Wyoming
The Teton's picture-perfect mountains come alive in fall against a backdrop of vibrant fall foliage. Grand Teton National Park in Wyoming is home to several large groves of aspen and cottonwood trees. Fall colors start to appear in early to mid-September and often last until mid-October.
Elk, bear, bison, and moose call Grand Teton home, and all of them are especially active in the Fall. The Elk rut (elk mating season) occurs in September and October, and the sound of bugling males looking for their mates echoes around the park. Set your alarm for an early wake up call for the best chance of seeing wildlife, and bring your binoculars.
Glacier National Park: Montana
Jaw-dropping scenery and an abundance of wildlife makes Glacier National Park in Montana an easy pick for one of the best National Parks to visit in Fall.
Glacier is a hikers paradise, and visitors can enjoy over 700 miles of trails along some of the most epic peaks and alpine lakes in the United States. Great hikes include the Grinnell Glacier Trail, Highline Trail, and Avalanche Lake.
Don't miss driving the Going-To-The-Sun Road, the Park's most world-famous scenic drive. As of 2022, a vehicle reservation is required to access the most popular areas of the park, including the Going-To-The-Sun corridor and North Fork areas from May until mid-September.
Bears are extremely active in Glacier, especially in the Fall. Be prepared with Bear spray and know how to handle a bear encounter. Learn more about bears in Glacier here.
Visitors coming after mid-September can enjoy a quieter park, although the extreme winters close major park roads, including Going-to-the-Sun Road seasonally starting in late October. Check the Park website for updated conditions.
Congaree National Park: South Carolina
Steamy humidity and vicious bugs plague Congaree National Park in summer, and flooding often occurs in winter. But cooler temperatures, and fewer insects, make fall the best time to visit this National Park in South Carolina.
Congaree National Park is home to some of the oldest and tallest trees east of the Mississippi. Fall colors peak in Congaree in late October to early November. Explore the park on foot along the 2.6 mile Boardwalk loop trail. To really experience Congaree, don't miss a kayak or canoe trip down the park's many paddle trails. Bring your own boat, rent from a nearby outfitter, or join a guided tour.
Yosemite National Park: California
Soaring granite cliffs, snow-capped Sierra peaks, and North America's tallest waterfall are just a few of the reasons why Yosemite ranks as my all time favorite National Park. While Yosemite is stunning in every season, Fall is an especially great time to visit.
Planning a Yosemite trip? Check out my super in-depth Yosemite blog posts to plan your adventure to one of the best National Parks to visit in Fall.
Summers can be sweltering in Yosemite Valley, so cooler Fall temperatures make for ideal hiking conditions. Mosquitos are mostly gone by September. Crowds are also significantly smaller (although never gone completely) than in the busy summer season.
Fall is also a great opportunity to visit the higher elevation areas of the park like Glacier Point Road, Tioga Road, and Tuolumne Meadows, before the close for winter, usually starting in November. Check out current road conditions in Yosemite National Park here.
Arches National Park: Utah
Summertime temperatures regularly soar into the 90's at this iconic Utah National Park. Planning a visit to Arches National Park in the fall means cooler temperatures and far fewer crowds. Early winter storms can dust snow in the distant La Sal mountains, making for spectacular scenery throughout the park.
Drive the 19 mile scenic drive through the heart of the park, stopping at the most iconic sights like Park Avenue, Double Arch, and Windows Arch. A moderate 3 mile hike to Delicate Arch is an absolute must to check out the Park's defining feature.
A timed entry reservation is required to enter the Park between 6 am and 5 pm, between April 3 and October 3, 2022. The timed entry reservations are required as part of the Park's reservation pilot program, aimed to reduce overcrowding at this immensely popular park. Learn more about the timed-entry requirements, here.
Cuyahoga Valley National Park: Ohio
Nestled in the woods just outside Cleveland, Ohio, Cuyahoga National Park is a popular destination year-round, but the Park really shines in Fall.
Don't miss a visit to Brandywine Falls, the park's largest waterfall, and the otherworldly Ledges trail. Bringing your four-legged friend for a visit? Cuyahoga is one of the best dog-friendly national parks to visit in fall. Dogs are permitted on all trails, and there are even designated dog water fountains at the Visitor Center.
Planning a visit to Cuyahoga National Park this fall? Check out some of these best hikes in Cuyahoga Valley National Park to experience autumn in Cuyahoga at its finest.
Grand Canyon National Park: Arizona (North Rim)
Of the staggering 5 million annual visitors to the Grand Canyon, only 10% ever make it to the remote North Rim side of the park. The North Rim has a short but spectacular fall foliage season, lasting from late September until the North Rim closes for the season in mid-October.
Stay at the rustic North Rim Lodge, the only hotel style lodging on the North Rim, and enjoy spectacular canyon sunsets from the Lodge's main deck. Hike into the canyon via the North Kaibab Trail, or hop on a guided Mule ride into the Canyon – I've done it 2x now and it's one of my favorite Grand Canyon experiences!
The North Rim also sits approximately 1,000 feet higher in elevation and can experience full winter conditions starting in Fall. Come prepared with warm clothing and a sense of adventure.
New River Gorge National Park: West Virginia
Tucked in the hills of West Virginia, New River Gorge is one of the best, and most exciting, National Parks to visit in fall. Why? The park is home to miles of short and easy trails to some of the best fall foliage in the central-east area. Thrill seekers can scale the more than 1,400 established rock climbing routes in the park. Whitewater rafting season runs through October. Local guiding companies offer river trips ranging from half day to multi day excursions.
And of course, don't miss the annual Bridge Day which takes place the third Saturday of October. Adrenaline junkies and spectators celebrate the beloved New River Gorge Bridge with a massive block party spanning the 3,030 feet length of the bridge. Bridge Day festivities include music, food, crafts, and oh yeah, jumping OFF the bridge.
Bridge Day draws hundreds of BASE jumpers every year with the opportunity to soar and parachute into the gorge, hundreds of feet below. The event draws thousands of spectators cheering on the daredevil jumpers.
Check out more information on planning a trip to America's newest National Park, here.
Death Valley National Park: California
Summers are long and deadly in aptly named Death Valley National Park. Most campgrounds and ranger programs in the park are closed from April through September, due to extreme summer heat. In fact, the world's highest temperature of 130°F was recorded here in July, 2021.
Temperatures start to become bearable in October (avg. high 93°) and November (avg. high 77°) making fall one of the best times to visit this National Park. Death Valley is a land of superlatives: the hottest recorded temperatures; the lowest point in the North America (282 feet below sea level); the driest place in North America (less than 2 inches of annual rainfall); and the largest National Park outside of Alaska (over 5,000 square miles).
Check out the Mesquite Flat sand dunes, Badwater Basin, colorful Artist's Point, and sunrise from Zabriskie Point. The park has many miles of marked and unmarked trails, backcountry off-roading, and paved scenic drives.
Big Bend National Park : Texas
Like other desert parks, Big Bend National park is best visited in the fall through spring, once brutal summer temperatures have subsided. Located in the far southwest corner of Texas, this National Park follows the big "bend" in the Rio Grande River, which forms the border between the United States and Mexico.
Planning a trip? Check out these Big Bend blog posts to plan an adventure to this remote but incredible park.
Drive the Ross Maxwell scenic drive through the Park's vast Chihuahuan Desert. Hike along the Rio Grande in Santa Elena Canyon. Explore the Lost Mine trail through the Chisos mountains, the only mountain range located entirely within a National Park.
Although the park has relatively few places to experience fall foliage, the cooler temperatures make autumn an ideal time to explore this park.
Zion National Park: Utah
Zion National Park is one of the most picturesque and unique National Parks in the United States – but also one of the most crowded. Planning a visit in fall, especially in late October or November, means you can visit the Park without overwhelming crowds.
Fall foliage in Zion is spectacular against the bright reds and oranges of the canyon walls. Fall colors are visible in the canyons and valleys by mid to late October and last through November. Don't miss hiking the Narrows slot canyon, and driving the Mt. Carmel scenic highway. Brave souls can enter the permit lottery to hike the park's most popular, and dangerous, trail to Angel's Landing.
I've visited Zion several times over the years, and fall is by far my favorite time to explore this National Park!
Shenandoah National Park: Virginia
Located just 2 hours from Washington, D.C., Shenandoah National Park in Virginia is as famous for its fall foliage as it is for its rolling hills and classic hiking trails.
Take it all in along Skyline Drive, the park's scenic drive that runs 105 miles north and south through the park. Or hike a part of the 101 mile stretch of the Appalachian Trail that runs through the National Park.
While it's impossible to predict when "peak" foliage will occur, fall colors are usually visible in late October to mid-November. The Park regularly updates its social media and website with a "Fall Broadcast" to keep dedicated leaf-peepers in the know.
Rocky Mountain National Park: Colorado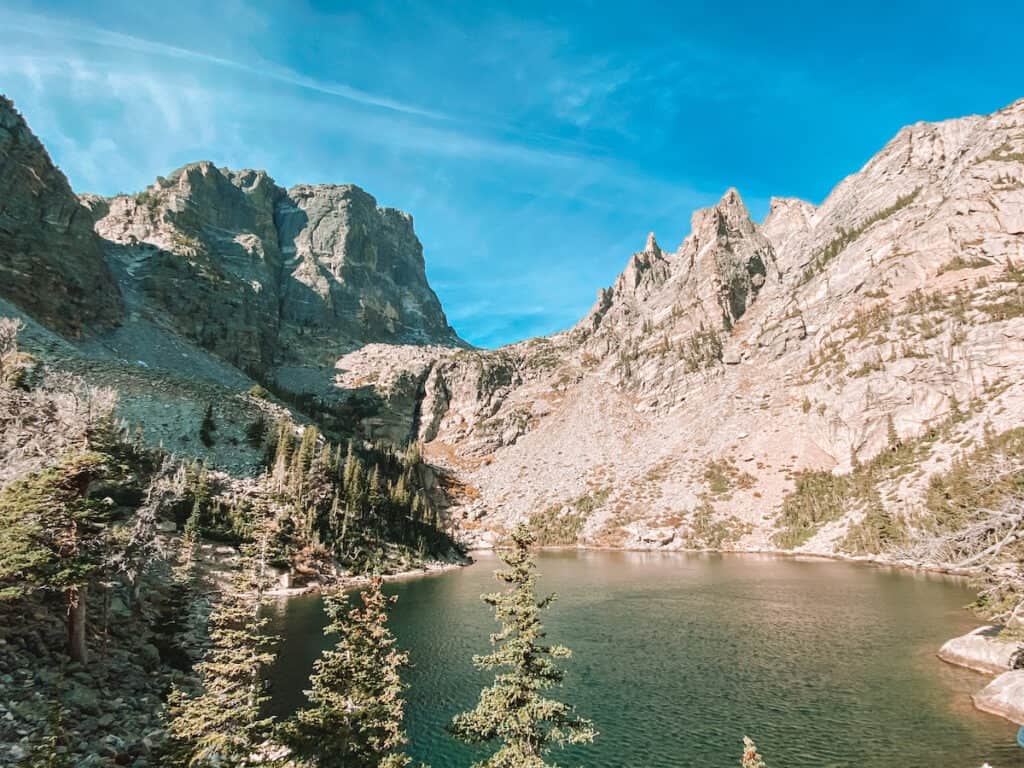 The soaring peaks of Rocky Mountain National Park come alive with the color yellow in fall. Thousands flock here to view the park's massive groves of aspen trees, which transform to bright yellow.
Fall arrives early here, thanks to the Park's high elevations. Colorful foliage is usually found September through October. Autumn is also the perfect time to spot wildlife in Rocky Mountain. The sound of elk bugles can be heard across the valleys during the fall elk rut. Elk can be seen in grassy valleys in and around the Park, especially around sunrise and sunset. The nearby town of Estes Park hosts the annual Elk Fest.
Hikers should be prepared for winter conditions, especially in the Park's higher elevations.
Acadia National Park: Maine
Last but not least, Acadia National Park in Maine is one of the most popular and best National Parks to visit in Fall. In addition to viewing some of the best fall colors in New England, visitors can watch sunrise from Cadillac Mountain, the first place the sun rises in the United States. Hikers get a thrill on the park's cliffside trails, several of which feature iron rungs and ladders to ascend and descend Acadia's picturesque mountains.
There are 2 campgrounds, but no other lodging inside Acadia National Park itself. Most visitors stay in nearby Bar Harbor, a quaint seaside town where you can enjoy a terrific lobster roll sandwich.
Leaf peeping usually peaks here in late September through mid-October, and the Park is often crowded during these times. Vehicle reservations are required to drive Cadillac Summit Road May through October, 2022. Separate reservations are required for driving to Cadillac Summit at sunset. Find information on all Cadillac Summit road reservations on recreation.gov.
Want to learn more about planning an epic National Parks trip? Grab my free Ultimate National Parks Planning Guide below. It includes 70+ pages of printable packing checklists, my best planning tips, and everything you need to know to start planning a trip to all 63 National Parks!