Looking for the perfect gift for the National Park lover in your life? Look no further! This mega-gift guide of Gifts for National Park Lovers is sure to please even the pickiest traveler. Perfect for Christmas, holidays, birthdays, graduations or just to treat yourself!
As a lover of National Parks, I given (and received) many of these gifts myself over the years. This includes my favorite National Park themed gifts and must-have gear for your next National Parks trip.
Disclosure: This page may contain affiliate links, including Amazon Affiliate links, where I earn a small commission from any purchase – at no extra cost to you! This commission helps keep Brooke In Boots up and running. As always, all opinions are 100% honest and my own!
---
Looking for more gifts for National Park lovers? Check out these other gift guides for more unique suggestions for the outdoorsy person in your life:
---
Must Have Gifts for National Park Lovers
America the Beautiful National Parks Pass
The number one must have gifts for National Park lovers is the annual America the Beautiful National Parks pass. For $80, this pass covers entrance fees to any one of the 63 National Parks and more than 2,000 federally managed forests and recreation areas.
National Parks Passport Stamp Book
Did you know, every National Park has a unique passport stamp you can collect for free? Collecting stamps is a unique way to remember your National Park travels throughout the years. Plus its the perfect souvenir that doesn't take up any space!
National Parks lovers can start collecting stamps from their journeys in the official Passport to Your National Parks stamp book, which has stamp space for all NPS sites, color-coded by region. These Passport books are sold in all National Park gift shops, (and online) and every purchase goes towards funding educational and interpretive programs at NPS sites!
Detailed National Parks Itineraries by Brooke In Boots
Give the gift of a stress-free trip to one of America's best National Parks.
These super in-depth PDF itinerary guides will take you to the must-see bucket list stops in every National Park, plus suggestions for lodging, dining, transportation, and important tips for visiting, from someone who's been there!
I poured all my research and experience visiting these iconic National Parks into these super in-depth ebook guides. And they're priced super affordable so everyone can plan the perfect trip to my favorite parks.
These guides are your one-stop-shop for planning your next great adventure!
National Park Calendars and Planners
National Parks Foundation 2024 Wall Calendar
Created by the National Parks Foundation (the official nonprofit partner of the National Parks Service) this beautiful wall calendar includes color photos from 12 different National Park Service sites. The calendar also includes a little bit of background on each National Park, National Seashore, or Recreation area that just might inspire your next adventure.
Plus by supporting the National Parks Foundation, you're directly giving back to the Park Service. Win-win!
National Parks Calendar by Landmark Project
Put your next National Parks trip on the calendar with this beautiful illustrated calendar by the Landmark Project.
Each month has a retro-inspired illustration from one of America's 63 National Parks.
National Parks WPA Poster Calendar
This retro-inspired calendar features 12 months of vintage National Parks travel posters, created by the Works Progress Administration during the 1930's.
Shop the National Parks WPA Poster Calendar here.
Legends of the National Parks 2024 Wall Calendar
Ghosts, goblins, skinwalkers, even Bigfoot? Who knows what lurks in the shadows of our wildest National Parks. The Legends of the National Parks wall calendar colorfully illustrates 12 National Park legends and provides a little background on each haunting creature.
National Parks Foundation Planner
Plan you day (and your next National Parks trip) in this National Parks Foundation planner. This gift for organized National Park lovers features 53 color photographs, monthly and weekly calendars, and 2 sheets of National Park themed stickers.
Journals & Notebooks for National Park Lovers
Letterfolk National Park Passport Journal
This chic and pocket-sized National Parks journal is a great way to collect National Park stamps and record memories during a National Parks trip. The 48 page journal includes space for 20 National Park trips, plus extra room for bucket lists, checklists and more.
National Parks Field Notes Notebook
These colorful Field Notes journals are small enough to fit into any carry-on or hiking bag. I used these same Field Notes notebooks for documenting my cross-country adventures in 2020!
Leather Mountains Journal
If you're looking for a more sophisticated leather-bound journal that still gives National Park vibes, check out this Leather Mountains Journal (with vegan leather, of course) that includes 240 pages.
National Park Posters and Wall Art
National Parks Checklist Poster
There's a lot of National Parks checklist posters out there, but I love this one by GeoProject because you can write in the date you visited each park!
The Checklist Poster includes original illustrations for each of the 63 National Parks and fits nicely in a 16×20 frame – just like I have hanging over my own home-office desk!
Check out this National Parks Checklist Poster by GeoProject here.
America's National Parks Posters
My favorite National Parks posters are these retro 1930's era posters by the WPA. Collect posters from your favorite Parks or inspire your next adventure with a Park you've yet to visit. Check out the complete collection of these vintage posters by America's National Parks, here.
72 National Park Postcards Box Set
When we realized we did NOT have room for all our National Parks posters in our tiny NYC apartment, my husband came up with the brilliant idea of framing these vintage-style postcards. Use them to decorate a small space, or mail them to a friend!
Personalized National Parks Sign
Etsy maker EmbellishmentsStudio will create your own custom National Parks or National Forest sign for the National Parks lover in your life! The perfect gift for newlyweds, weddings, or just anyone who wants to bring a little custom National Parks flair to their home. (And yes, you can get a hidden Sasquatch included on the sign as well… the truth is out there! 😜)
Check out these adorable custom National Park signs on Etsy, here.
National Parks Scratch Off Poster
National Parks lovers will enjoy scratching off each National Park they visit to reveal the colorful National Park illustration underneath the gold foil. There's nothing like the satisfaction of getting to scratch off a new National Park after your trip! Check out this National parks Scratch Off Poster by Mappiners, here.
National Parks Wood Checklist Wall Art
For a truly custom National Parks checklist, consider one of these gorgeous wood-cut custom National Parks Maps. The wood-carved map includes tiny little trees to check off every Park you've visited, as well as options to custom engrave your name.
Check out this stunning wood National Parks checklist wall art, here.
Bring the Parks Home with these Home Gifts for National Park Lovers
Deneen Pottery National Park Mugs
A favorite of National Park lovers and coffee drinkers everywhere, these National Park mugs by Deneen Pottery are one of my all time favorite National Park souvenirs – I never leave a gift shop without buying one.
Deneen Pottery National Park mugs are available at National Park gift shops, online at Deneen Pottery's website, or browse more Deneen Pottery National Park mugs at America's National Parks, here.
Good & Well Supply Co. National Parks Tin Candles
Transport yourself to your favorite National Parks with these National Park Tin Candles by Good & Well. Grab these vintage inspired Good & Well Supply Co. National Parks tin candles here.
Parks Project National Park Candles
Or, check out these soy-blend candles from Parks Project. Each candle comes in a handsome glass jar with an impressive 80 hour burn time! Plus, Parks Project is one of my personal favorite brands because the give back to Parks and public lands directly from their profits! As of 2022 they've donated over $2.5 Million dollars!
Grab these National Parks scented candles from Parks Project, here.
Rumpl National Parks Blanket
Celebrate your favorite National Park with this cozy, go-everywhere, machine-washable puffy blanket. Each design celebrates a different National Park, from Acadia to Zion, and each blanket is water-resistant and packs into an included stuff sack to easily go from your living room to around the campfire.
Travel Gear Gifts for National Park Lovers
National Parks of the USA Checklist Water Bottle
Stay hydrated while checking Parks off your bucket list with this National Parks of the USA checklist Water Bottle. Grab this Parks Project insulated checklist water bottle here.
Nomadix National Park Towel
A quick-drying towel makes camp showers, hot springs dips, and hot yoga classes a lot less messy. This Nomadix National Park towel is slip-resistant, easy to pack, and features a map of the National Parks.
WildTree Respect Our Parks Camera Strap
Keep your camera secure and at the ready to capture the perfect shot with this "Respect Our Parks" National Parks camera strap by WildTree, a must for photographers looking to capture the perfect wildlife shot!
National Park Pint Glasses
Cheers! These National Park pint glasses are a great gifts for National Park lovers who enjoy their craft brew with a view.
Check out more National Park Pint Glasses, here.
National Park Wine Glasses by Well Told Designs
More of a wine drinker? Check out these stemless wine glasses by Well Told Designs, engraved the name and map of your favorite National Park.
National Parks Jewelry
Keep her favorite National Park close to her heart with one of these minimalist National Parks necklaces.
National Park Cast Iron
Be the talk of the campground with these National Park themed cast iron cookware. The commemorative set includes a 12-inch cast iron dutch oven and 12-inch cast iron skillet.
National Parks Hand Embroidered Pillows
Each of these hand-embroidered pillows depicts one of 9 different National Parks, including Acadia, Yosemite, Zion, Great Smoky Mountains, and more. Check out the complete line of National Parks Hand Embroidered Pillows, here.
National Park Stickers, Pins & Patches
National Park Sticker Set
Is it possible to have TOO many National Park stickers? (No, it's not) Decorate your car, your water bottle, your laptop case, and more with this 100 piece National Park sticker set. Get the 100 piece National Park sticker set here.
63 National Parks Sticker Set
Decorate your car bumper (or anything else or that matter) with these 63 matching National Park vinyl stickers. Get this 63 piece National Park decal sticker set here.
Hydrascape Infinity Stickers
As unique as they are gorgeous, these Hydrascape Infinity stickers create a realistic layered landscape on your waterbottle, phone, or laptop case. These infinity stickers are available in large sizes for your reusable waterbottle or laptop case, and "mini" sizes for you phone case, and anywhere else you can imagine!
WildTree National Park Arrowhead Stickers
Designed in the shape of the iconic National Park arrowhead emblem, these National Park stickers feature illustrated scenes of each of the parks. Buy WildTree National Park Arrowhead Stickers here.
National Park Pins by America's National Parks
National Park pins are a great gift for any National Park lover's purse, bookbag, jacket, or hat. Check out these colorful pins by America's National Parks, the official nonprofit education partner of the National Parks Service.
And yes, these National Park pins definitely count toward your mandatory number of pieces of flair. 😂
National Park Patches
Customize your hiking pack or duffle bag with these National Park patches by America's National Parks.
Books for National Park Lovers
Looking for the perfect National Parks book? Check out more guidebooks, memoirs,
National Geographic Guide to National Parks of the United States – 9th Edition
My go-to resource when planning a new National Parks trip, the National Geographic Guide to the National Parks (9th edition) is an excellent resource for planning your next National Parks trip.
This guide includes suggestions for where to stay, what to see, when to visit, as well as interesting historical and scientific information about each National Park.
Roaming America
In 2017, after winning the green card lottery and moving to America from Australia, Renee and her husband Matthew embarked on an epic 7 month road trip in their new homeland and visited 59 National Parks. Not only is this book packed with helpful info and personal travel tips, but as 2 professional adventure photographers, the visuals in this book are to die for!
Read more about Renee's journey to every National Park, and explore her book, Roaming America, here.
National Geographic Atlas of the National Parks
With stunning photos from Acadia to Zion, and loads of information on weather, wildlife and planning tips, this Atlas of the National Parks is sure to inspire your next great National Parks adventure.
The Hour of Land by Terry Tempest Williams
A collection of essays set in America's National Parks, this non-fiction memoir by acclaimed author Terry Tempest Williams explores our connection to America's most wild and special places. Buy The Hour of Land: A Personal Topography of America's National Parks, here.
100 Parks, 5,000 Ideas: Where to Go, When to Go, What to See, What to Do
Never be bored again with this epic to-do list by National Geographic. This book explores the best National, State, and local Parks and is jammed pack with trip planning suggestions and important travel information. Buy 100 Parks, 5,000 Ideas, here.
Ranger Confidential
Park Ranger Andrea Lankford has spent a career exploring and protecting our National Parks as a Park Ranger. She recounts her harrowing, moving, and often funny tales in her book, Ranger Confidential.
The National Parks: America's Best Idea by Ken Burns
Ken Burns, master of the documentary (if you're my age, you probably watched his Civil War documentary in High School…) tells the story of "America's Best Idea" in this gorgeous coffee-table-worthy book.
The Parklands: Trails and Secrets from the National Parks of the United States
A National Parks guide book as beautiful as it is helpful, Parklands: Trails and Secrets from the National Parks of the United States shares secrets, essential tips, and fun facts for planning the ultimate National Park Adventure. Parklands is published by Parks Project, the conservation-first apparel company that is clearly a favorite around here!
Campfire Stories: Tales from America's National Parks
Campfire Stories is a collection of essays and stories from 6 different National Parks. Read works from master storytellers like John Muir, Bill Bryson and more, plus the editors own experiences in these incredible National Parks.
Already own it? Check out 2023's all new Campfire Stories Volume II with 5 new Parks and 2 long-distance trails featuring celebrated authors and brand new voices.
The Best Clothes and Accessories for National Park Lovers
Parks Project National Parks Print Crew Sweatshirt
This vintage-style sweatshirt from Parks Project takes inspiration from the iconic "Welcome" signs at the entrance to our National Parks and National Forests.
And did you see that adorable back?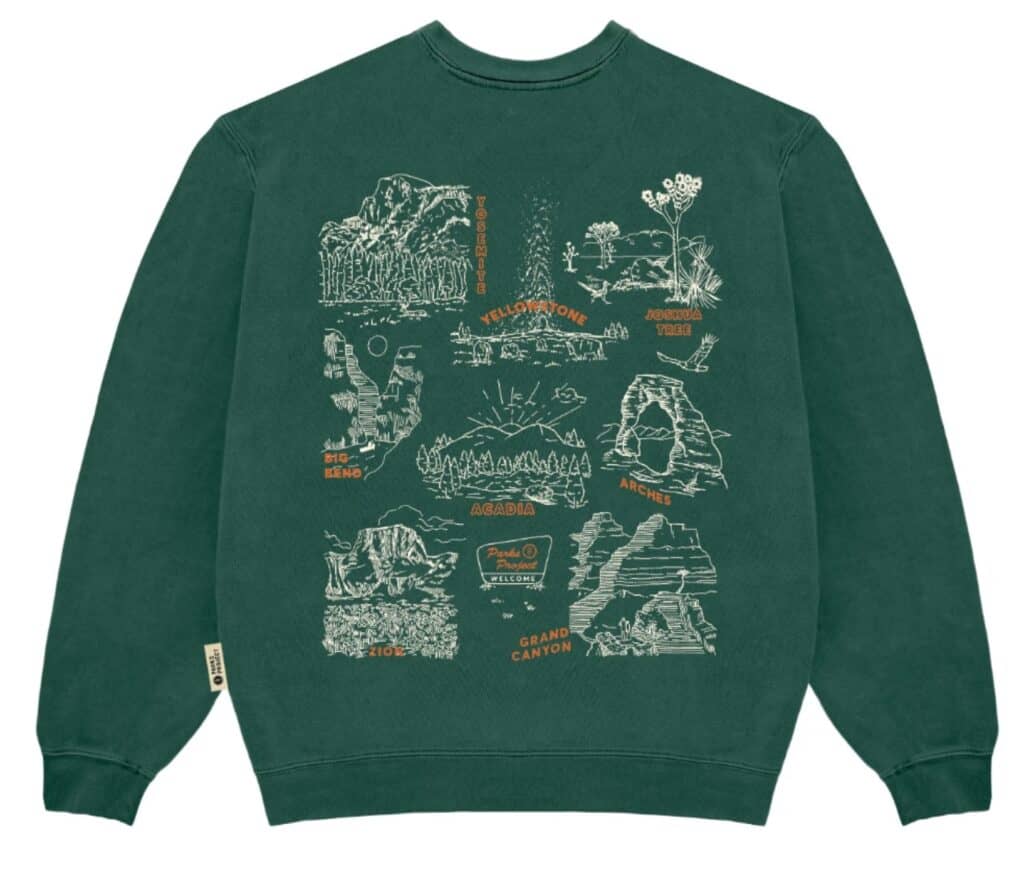 National Parks Grandpa Hap
Rep your National Parks with this reto-style embroidered hat from Parks Project. This is a classic cotton ball cap with adjustable snapback for the perfect fit.
Parks Project Fill In Your Park Boxy T-Shirt
Take your National Parks checklist on the road with this Parks Project checklist t-shirt, available in women's sizes at REI, and in a unisex pocket tee style at Parks Project, here.
Buff National Park Multifunctional Headwear
It may look like a simple piece of fabric, but this all-purpose headwear by Buff is a hiker's best friend. This multifunctional accessory can be used as a bandana, headband, or face covering. Protect your neck from sunburn with the UV+ sun protection fabric and keep sweaty stink at bay with the moisture wicking and odor control, all while repping your favorite National Park.
The Landmark Project National Parks Map T-Shirt
This comfy tee from the Landmark Project includes a map of all 63 National Parks (although I recommend bringing your own topo map too, just in case).
Games & Puzzles for National Park Lovers
Explore Our National Parks 1,000 Piece Puzzle
Puzzle lovers and National Park lovers rejoice! Relax in your cabin after a long day's adventure with this 1,000 piece National Parks puzzle.
National Parks Monopoly
The classic game of Monopoly gets a National Parks makeover in this special edition. Race to buy iconic parks and landmarks like Yosemite, Yellowstone and Mt Rushmore – just don't blame me when you realize the banker has been slowly pocketing the Monopoly money 🤷‍♀️
National Parks Yahtzee
This travel edition of Yahtzee is the perfect game for evening at the campground or lodge on your next National Parks trip.
National Parks Jenga
A National Parks edition of the classic block stacking game, Jenga. Each block features a different National Parks fact so you can brush up on your trivia while you play.
Trivial Pursuit National Parks Travel Edition
Put your National Parks trivia knowledge to the test with the travel edition of Trivial Pursuit.
Retro Ranger Playing Cards
Whether your game is poker, hearts, or solitaire, a deck of playing cards is one of the most versatile games, that easily fits into any suitcase or bag. I never leave for a National Parks trip without bringing an extra deck along for a little entertainment.
National Park Holiday Ornaments
Old World National Park Sign Christmas Ornaments
These National Parks signs are as iconic as the wildlife and geology of the Parks themselves. Bring a little Parks-magic to your Christmas tree with these Old World glass ornaments.
See more Old World National Park Sign Christmas ornaments, here.
36 Piece National Park Wood Ornaments
Commemorate your favorite National Parks with these rustic National Park wood ornaments, available in "classic" and "elegant" styles.
National Park Gifts for Kids
Jr. Rangerland: National Park Board Game
A National Parks take on the classic Candyland game, kids explore different landmarks and National Parks while making their way around the board. Ages 4+
Little Park Ranger Board Book Set
Introduce even the littlest Park Rangers to the National Parks with this Little Park Ranger Board Book Set. The set includes 4 board books to learn about the lands, plants, water, and animals that make our Parks home.
Passport to Your National Parks Junior Ranger Edition
Get kids excited about exploring National Parks with their own Junior Ranger passport stamp book! Kids can collect stamps from every National Park site, as well as special stamps when they complete the Junior Ranger program at a National Park. This Passport includes colorful illustrations as well as educational information about the Parks.
National Parks A to Z Book
Explore the National Parks from Acadia to Zion in this illustrated children's book, National parks A to Z, packed with fun facts for kids about our National Parks.
Thanks for checking out these gifts for National Park lovers. Need more gift ideas? Check out these other gift guides for more unique suggestions for the outdoorsy person in your life: