Looking for a new hike? Blogs and websites are a great resource to find new trails and adventures, no matter where you are in the United States. Find local favorite trails in your area, hidden gems, or start planning your epic hiking bucket list with these 23 best hiking blogs.
Best Hiking Blogs For the Northeast
Northeast Hikes : Features trails in Maine and New Hampshire with plenty of day hikes on the northernmost sections of the Appalachian Trail.
Summit Hiking in New England : This site features trails in New York and New England with an emphasis on summit peak hikes and state high points, but includes some easier fun hikes along the east coast as well.
Central New York Hiking : Central New York has a lot to offer when it comes to hiking, including the Adirondacks, Finger Lakes, and Catskills. This site covers them all, as well as other state parks and trails.
NY NJ Trail Conference : This group focuses on building and maintaining public trails in the New York and New Jersey region. Their website features lists popular trails in the region, and they often hosts workshops and volunteer restoration projects.
Southeast and Mid-Atlantic Best Hiking Blogs
Roanoke Appalachian Trail Club : This regional branch of the Appalachian Trail Club features details and day hikes on the 120 mi of the Appalachian Trail that winds through central Virginia.
Hiking Upward : One of the best hiking blogs for the region, this site covers trails in North Carolina, Virginia, Pennsylvania, Maryland and West Virginia, and includes trails in the Shenandoah and Smokey Mountain areas.
Hiking in the Smokeys : This site covers the stunning Smokey Mountain region, including over 70 hikes in Tennessee and North Carolina.
Atlanta Trails : Georgia is famous as the southern end of the Appalachian trail and for great day hikes. This site breaks down trails in the state by difficulty and distance.
Midwest Hiking Blogs
The Trek: Best Hikes in the Midwest : The Trek extensively covers the country's most popular long distance backpacking trails like the Appalachian and Pacific Crest, but also features a nice roundup of midwest day hikes.
Superfeet : This site includes a list of 9 midwest trails, along with links to more detailed information on places like Shawnee State Forest in Illinois and Tallgrass Prairie National Preserve in Kansas.
Southwest Best Hiking Blogs
Arizona Hiker's Guide : There's more to Arizona than the Grand Canyon. This site breaks down the best hikes in this diverse and beautiful state. The Hiker's Guide includes plenty of day hikes near big cities, and many dog friendly locations too.
GJ Hikes : While not the fanciest site out there, GJ Hikes features thousands of hikes in Arizona, Colorado, New Mexico, Nevada and Utah. The Utah section alone features over 500 trail suggestions. Trail guides include lots of photographs and trail descriptions, as well as helpful information like cellphone coverage on the trail.
Best Hiking Blogs for the Rocky Mountains and Colorado
Rocky Mountain Hiking Trails : This site bills itself as the "most comprehensive website" for Rocky Mountain National Park hikes. The site breaks down over 80 trails by location and difficulty. They also feature a list of best beginner hikes and Top 10 hikes.
Day Hikes Near Denver : It's no secret that Denver has some of the best hiking of any major US City. This site highlights the best waterfall hikes, best beginner hikes, and best trails within an easy 30 minutes of the city.
Also check out GJ Hikes listed above. This site features over 900 trails and hikes in Colorado alone!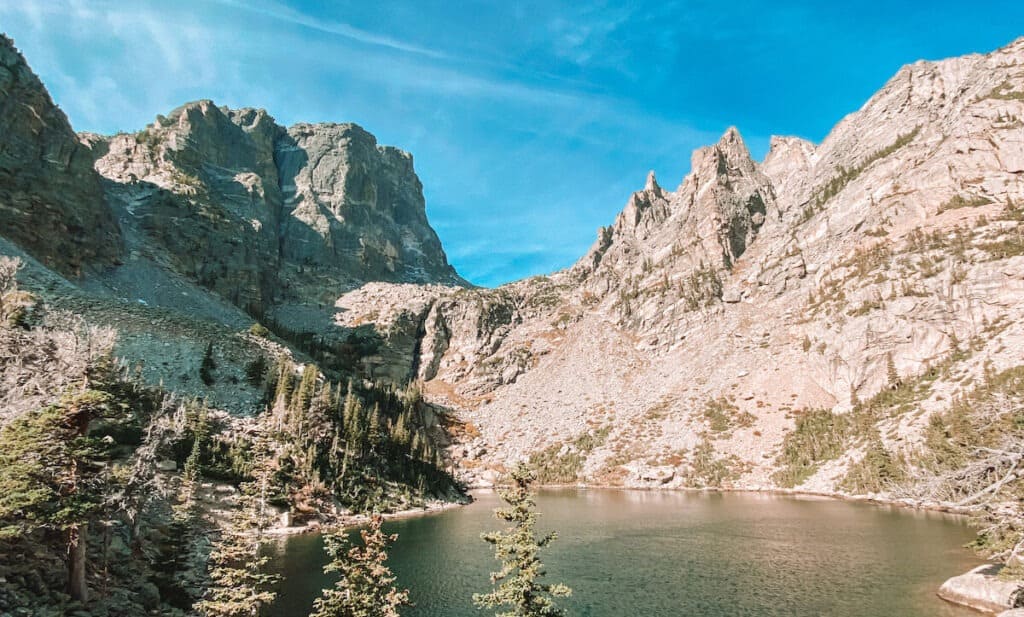 Best California Hiking Blogs
SoCal Hiker : This website taught me how to hike! Well, maybe not literally, but I certainly read it cover to cover while I was just starting out on my hiking journey. SoCal Hiker does excellent research on their hikes. I highly recommend the "6 Pack of Hikes" section for more advanced adventurers training for challenges like Mount Whitney.
CaliTrails : An older site, but it features dozens of hikes in Southern California and the Eastern Sierras. This site is particularly focused on finding dog friendly hikes rated moderate to difficult.
Modern Hiker : An excellent hiking resource, this blog focuses mostly on southern California, but includes hikes throughout the state as well. This site includes detailed hiking guides you can filter by accessibility, dog-friendliness, and other features. Modern Hiker has even upped their game with their own AllTrails-style App. If you live or vacation in California, bookmark this site.
Northwest Hiking Blogs
Pacific Northwest Wanderers : PNW Wanderers is run by a Washington state couple who document their adventures in and around the Seattle area. They include several hiking guides as well as information on camping and other activities in western Washington state.
I Heart Pacific Northwest : This blog features hikes or "trip reports" for areas throughout Oregon and Washington. Along with first hand accounts of each trail, their posts feature loads of gorgeous photos.
Washington Trails Association : The WTA is a dedicated advocacy and volunteer organization to promote and protect the state's many trails. The Hike Finder map features hundreds of hikes, filtered by mileage, elevation, or trail features. They also include includes dog and kid-friendly options.
More Hiking Blogs for Around the Globe
Disabled Hikers : Everyone has a right to the outdoors. Unfortunately, not all blogs address disability and differently-abled needs on the trail. Disabled Hikers is written "by disabled hikers for disabled hikers". While the site is relatively new, it features a dozen or so hikes, mostly in the Pacific Northwest. Trail guides include detailed information on road conditions, grade and trail obstacles, and what types of mobility aids or adaptive equipment may be necessary.
Bearfoot Theory : Blogger Kristen runs Bearfoot Theory, an excellent hiking, travel, and van life blog. Kristen's site is one of my go-to's when planning a trip to a new national park or destination. Check out her guides on backpacking, hiking and traveling the country.
Hiking Project : The Hiking Project posts thousands of trails around the U.S. and a few international ones as well. The crowd-sourced site features a a detailed interactive map that allows you to view trails in your area. You can filter by things like difficulty, elevation, distance and whether the trails are dog or family friendly.
Found Your Perfect Hike? What's Next?
After checking out the best hiking blogs and finding the perfect hike, you're ready to pack up and hit the trails! Don't forget to bring all the essentials for Packing for a Day Hike.
While on the trail, make sure to practice Leave No Trace principles, and have fun!